The last part of my Vietnam adventure, the North.
You can read about the other parts here and here.
Full album of the northern part here.
After hanging out a little bit in Hanoi, I started my trip to the furthest roads north of Vietnam, my first destination was Ban Gioc Waterfalls, but it takes quite a bit of driving to get there, I met up with some friends from Saigon for a visit of an old village near Hanoi, Làng Thổ Hà.
"Rice paper" production is very popular around there, mixed with chili sauce, it's a nice snack:
In small villages when you don't pay the money you own, they chase you out by making this kind of poster in the streets, it says this couple owns money and are not paying:
This is how they cook their famous "Tho Ha Multi Cake":
Random house:
How locals enjoy their meal out there:
Had some amazing homemade food , it's nice to travel with locals, they know how to get that kinda of food, this was a restaurant but it didn't look very much like one, so my local friends help was very nice, as was the meal:
My two friends, from Saigon:
I then started my solo drive north, my first stop was Thái Nguyên, just a place to sleep on my way to Ba Be lake the next day, it was cloudy and rainy on the drive and at the lake, so I decided to move on to my next destination the next day, still took the time to take some pictures.
Here's some pictures between Thái Nguyên and Ba Be lake:
And around Ba Be lake:
I left Ba Be lake in the rain and it pretty much rained all the way to the city of Cao Bang, it was pretty cold and the drive was nasty, couldn't see much and I was wet and cold, it's all part of the adventure but when  you're in it you feel like shit, still managed to get some pictures:
Cao Bang is a province of the north and also a city, about 2 hours from my first "real" destination, Ban Gioc waterfalls, so after a 2 day break in Cao Bang I drove to the waterfall, what a beautiful place:
And some drone pictures:
That waterfall is separated between Vietnam and China, half of the bigger fall is in China, the right part on the pictures, left is all in Vietnam. Around the fall there isn't much to do but you can always find pretty landscapes when driving from one village to the next one:
The next shot is from here, if you are in the area, drive that road, it's not included in the "usual" Ha Giang loop maps but it was easily one of my favorite roads I've driven in Vietnam:
This amazing yellow valley is also on the road linked:
Asia is the place where agriculture looks like art:
After this epic scenery you will soon get to "đèo Mẻ Piaa" an incredible pass that seems to go on forever:
After that crazy day, I slept in Bao Lac and the next day I  drove to Dong Van, where you can see the amazing Nho Que river from Ma Pi Leng pass: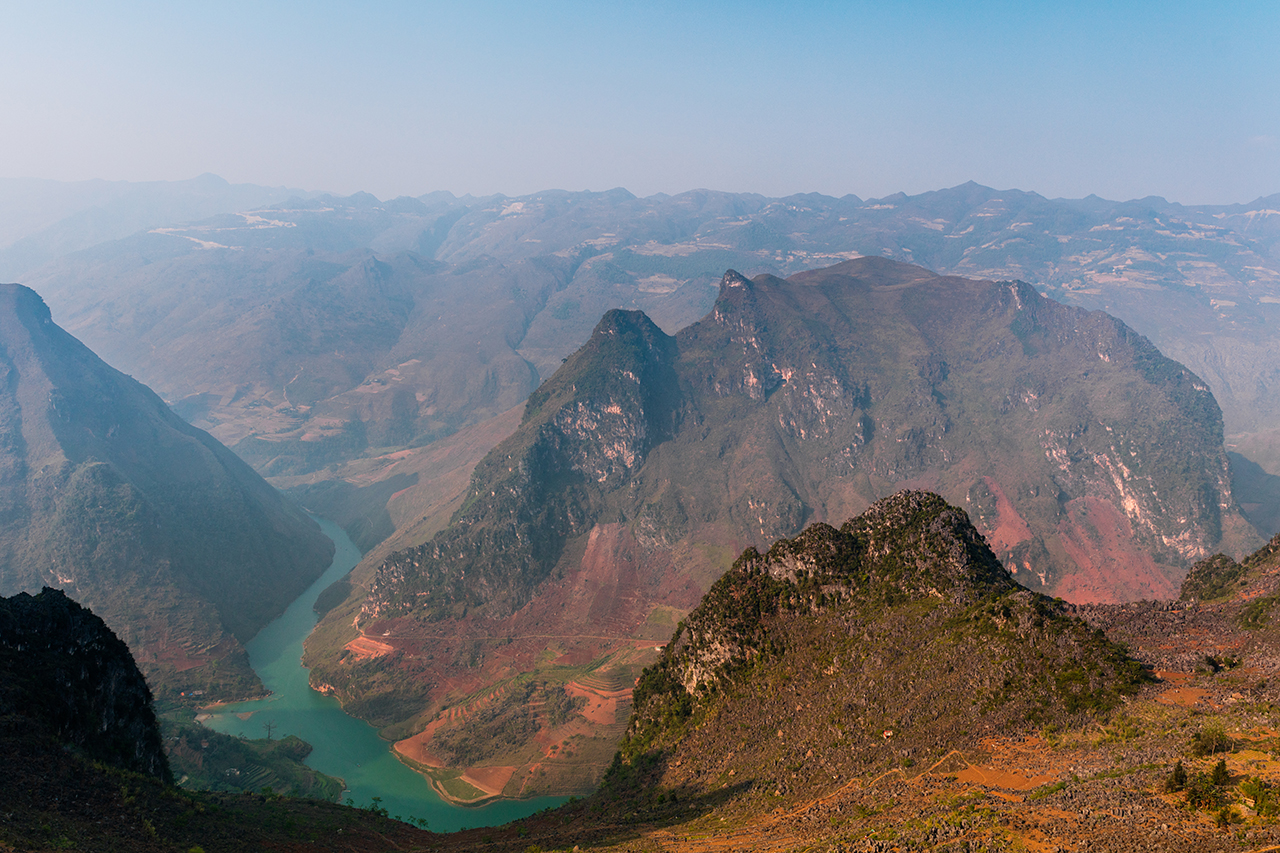 Another location with crazy landscapes:
My bike, fully loaded, at the top of the pass:
Visibility wasn't the best but still, wow, what a sight, you have to go there if you are in Vietnam! If you keep driving on that road in direction of Ha Giang city, you will come across another pass, Chín Khoanh ramp, and guess what, it's also beautiful:
Drone view:
Driving to Ha Giang, again the landscape and agriculture lands that make for amazing photography: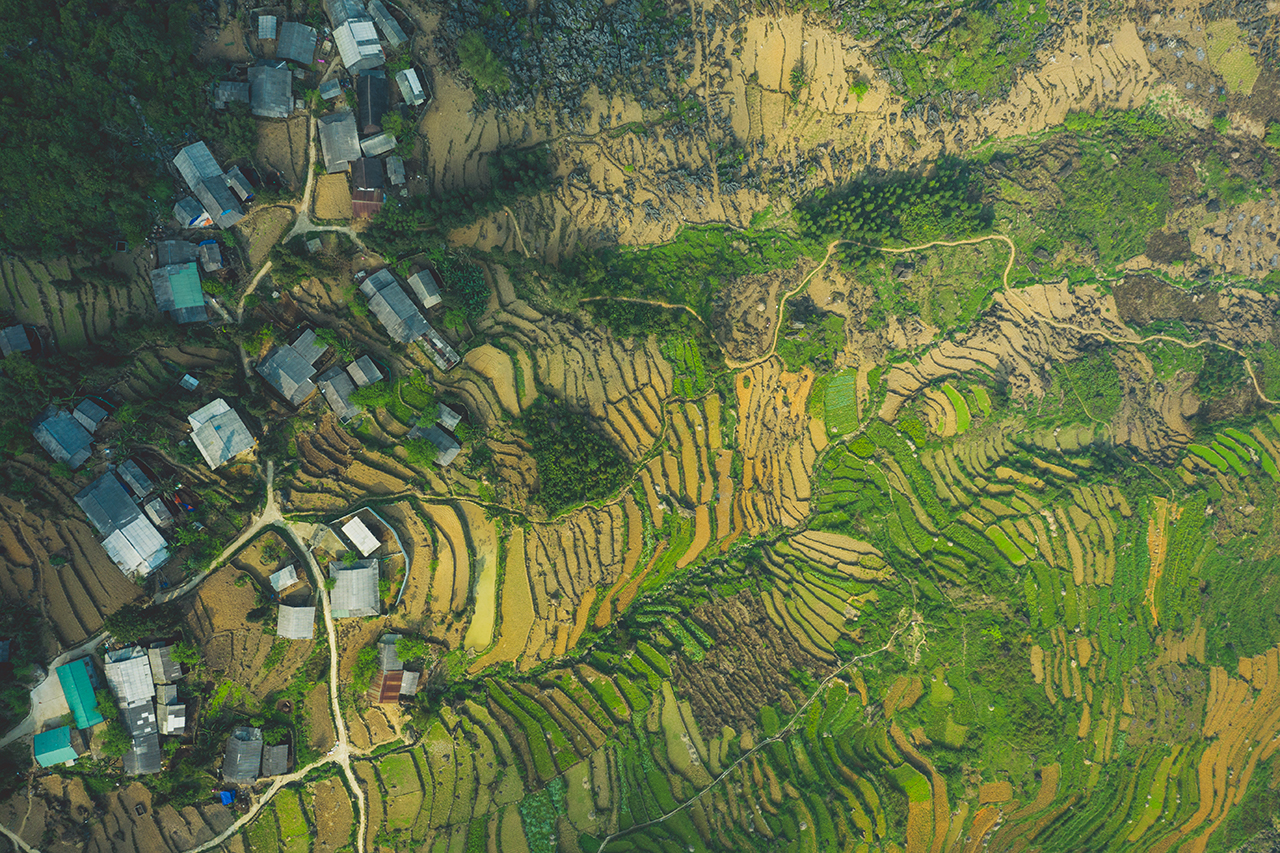 A small pass on the way to Ha Giang: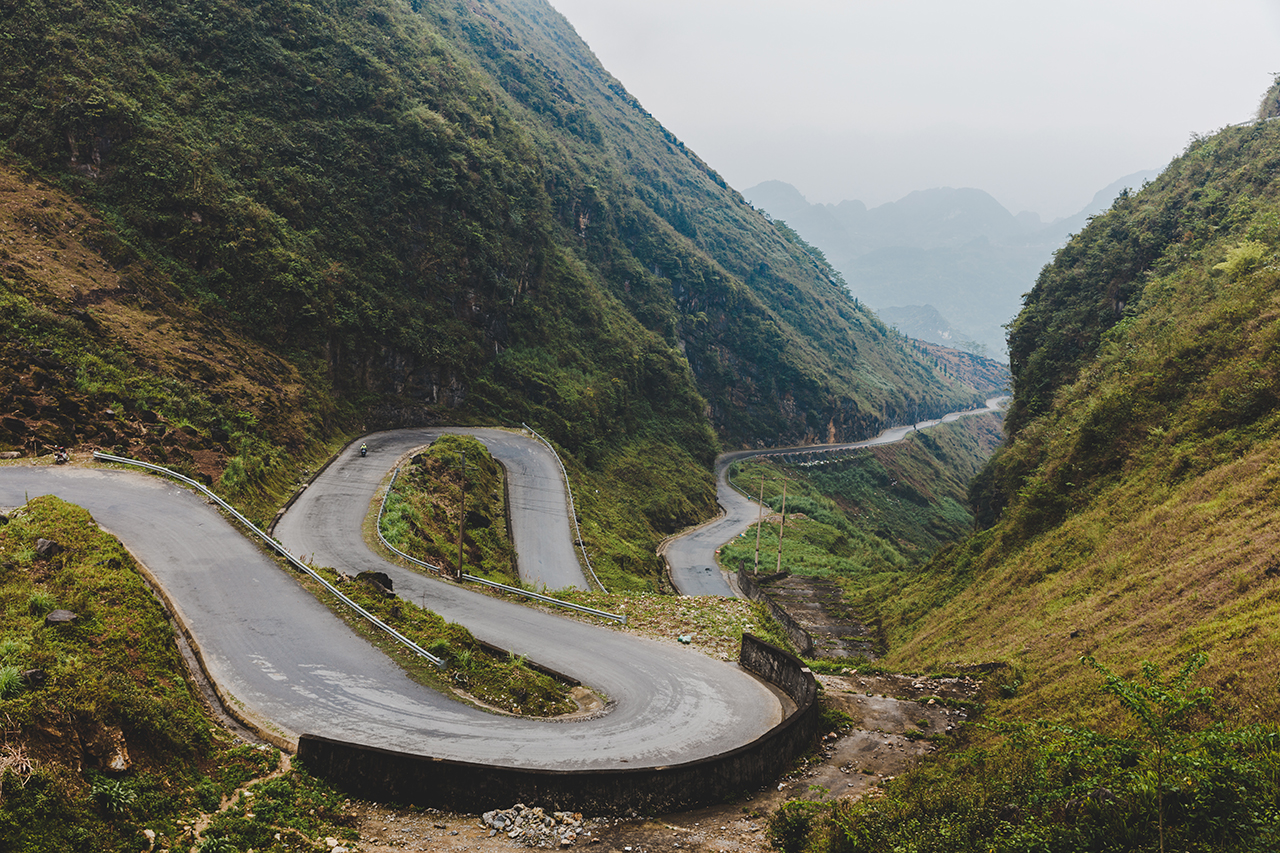 You'll drive along this river for a while before getting to Ha Giang:
Yes, finally made it Ha Giang, not much to do in the city, but I visited a small waterfall nearby:
Cool spot to swim when the weather is nice, local country side house: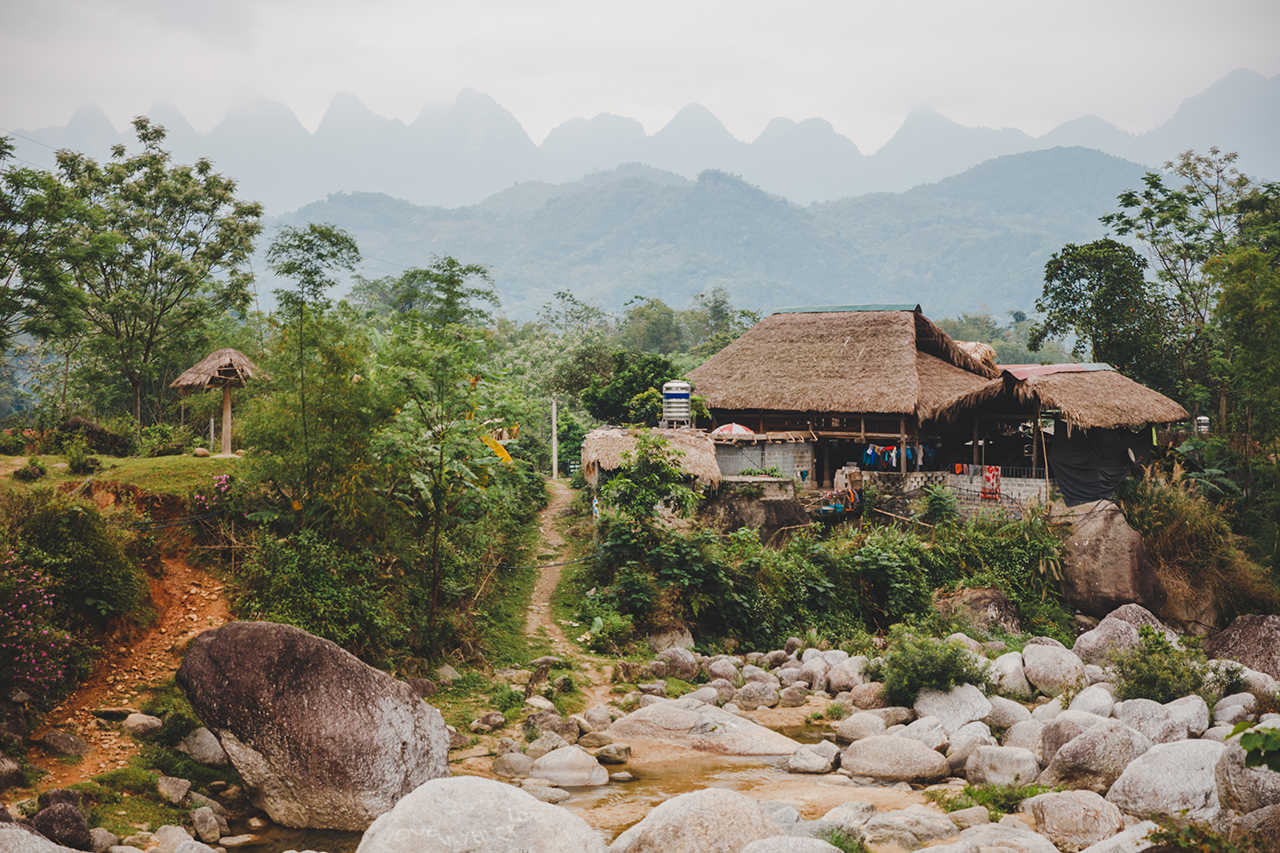 The rice terraces of the north are so green:
After staying in Ha Giang for 2 nights with pretty bad weather I decided to drive back to straight to Hanoi. Took a couple of shots while in Hanoi waiting for my next adventure:
It was time for my next adventure, the "Asian trip" to Taipei, Philippines and Kuala Lumpur.  After I came back I went back to Ning Binh, this time I stayed a little longer. /On the first evening I got there in time to catch the sunset, a rare one for me while there:
Explored the area between rainfalls:
The weather was a little better so I did the boat ride on the Trang An, very touristic for sure but some cool stuff to see:
These are is cinema props, this is one of the locations they filmed the last King Kong movie:
After the boat tour I drove around looking to take advantage of the sun:
This nice gentleman saw me and came over and with hand gestures ask me to take a picture of him, he was very nice and happy as most people in Vietnam:
It was time to move to Cat Ba, the less touristic version of Ha Long bay, I stayed there two nights, again it was cloudy and rainy so I just visited the island, didn't do a boat tour there, here's some pictures of the island: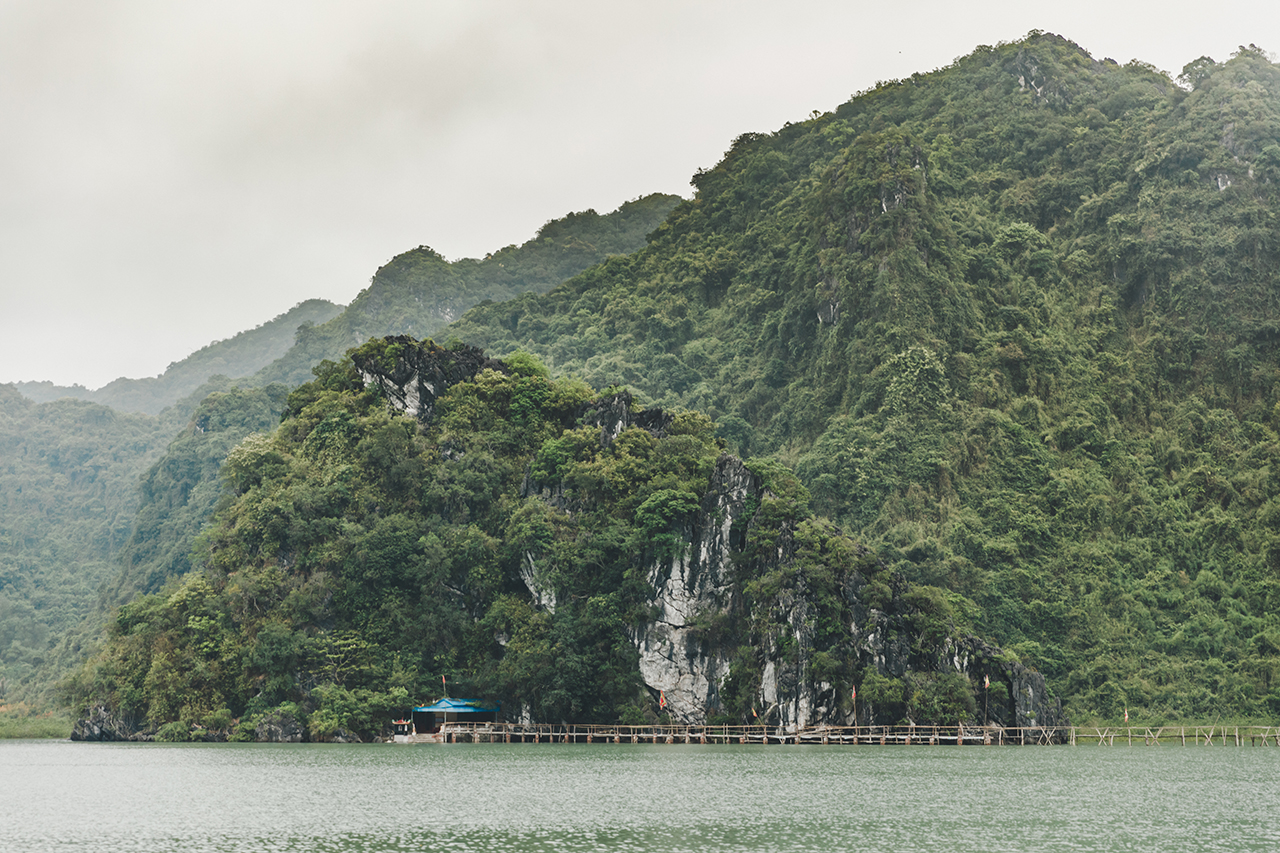 After that I wasn't sure where to go, and after contacting some cruise operators in Ha Long, I got a deal with L'Azalée Deluxe Cruises. So I drove to Ha Long for a 2 days 1 night cruise with them. It was a great experience.
The boat at the port:
They also offer "Sea plane" service if you are in a hurry:
Beautiful Ha Long bay:
It is pretty crowded in the bay, but still an great experience, the cruise was also exquisite, good food, good staff, very comfortable rooms, what else can you ask for ?
After a good lunch you will be dropped at the Hang Sung Sot, a nice cave to walk in with many other tourists: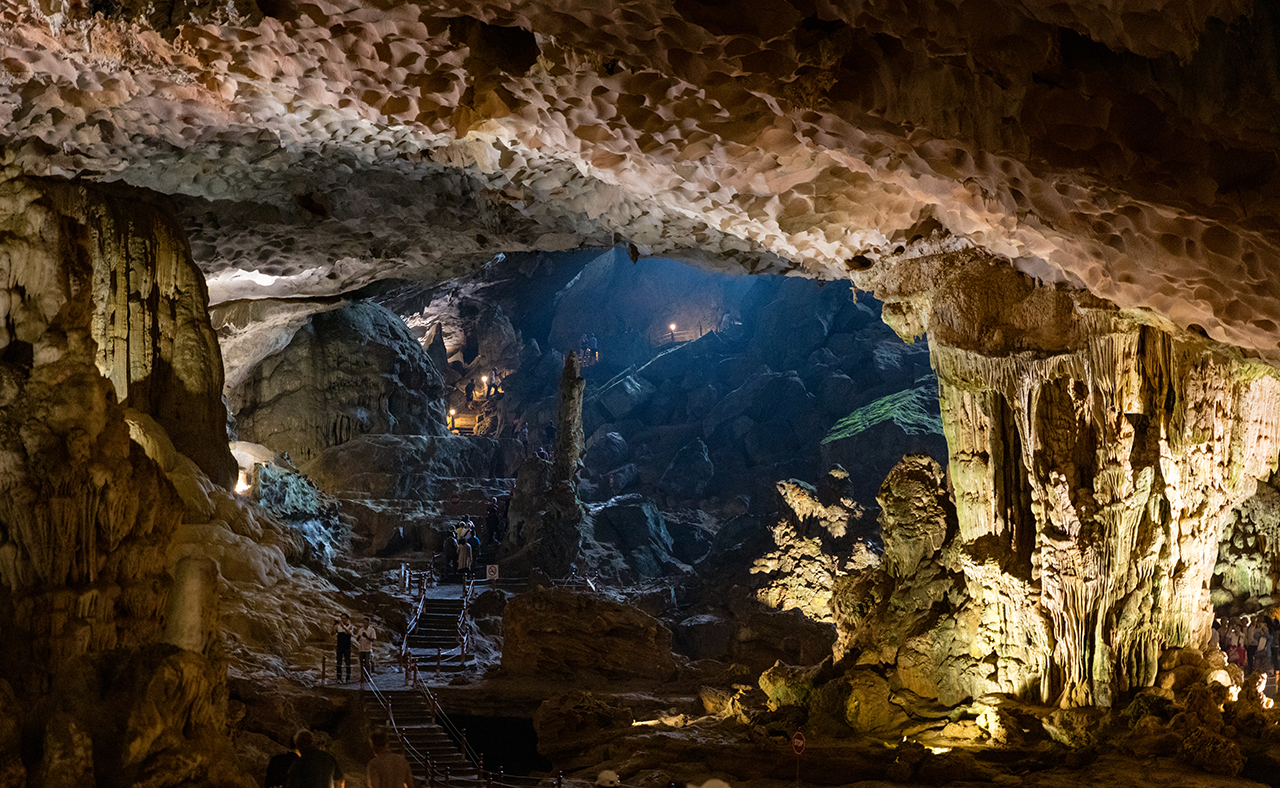 As the night falls they serve a tasty dinner and you can enjoy the night fall on the bay. You can also try your luck at squid fishing, that's why you see boats lighting the water, it attracts the squids, I  tried my luck but it was the end of squid season and didn't catch any.:
The next day, after a good breakfast you will be dropped here, "Ti Top" island, you can walk up to the viewpoint up there:
View from the top of the mountain:
Panoramic view:

The L'Azalée Deluxe Cruises boat hanging in the bay:
Took some pictures on the way back to the port:
Those rock formation, limestone, are always impressive:
After the cruise, I returned to Hanoi, had to sell my motorbike and leave. I am writing this post from Saigon where I flew to after staying in Hanoi for a couple more days. Soon I will be leaving Vietnam for a month in Montréal (hometown) and I will come back to Saigon to start more adventures in the region. I am still debating where I will go next.
Vietnam, as you can imagine, is for me, an incredible country, I stayed here for a long time, yes because it's affordable but mostly because it is very nice to be here, I have never experienced a country like this, it is hard to explain how "chill" this place is. You have to come here to experience it.
That is it for now, I could go on but I think the pictures speak for themselves and you can now come and discover it.