May 2022.
After previously exploring a lot of pre-pandemic Vietnam (See here, part 1, 2, and 3) once the country reopened, I went back to explore the northwest part of the country, on a 9-day motorbike road trip. A place I had never been to before.
The plan was to take a week off work and ride as much as possible!
Heere's the link for all the photos.
The trip "plan" on the map:
The trustee Honda Winner 150cc:
I left Hanoi on Friday morning and my first stop was about 3h away at Thung Khe Pass.
Kept going and got to Mai Chau Top View Cafe, I was confused because I didn't think I was going to drive by Mai Chau, I took a wrong turn, but I was happy I did, what an amazing valley:
The coffee wasn't great, but the view is well worth the stop for a refreshment.
I didn't stop in the Mai Chau village, my plan was to end up in Pu Luong before the sun was down. Stopped randomly in between Mai Chau and Pu Luong and some kids came up running and asked me if I had a drone and if he could pilot it. That was his first thought when he saw a random foreigner on a bike!
I then made it to Pu Luong, found a place to stay, and enjoyed the pool.
Amazing view even with the cloudy weather:
That evening, after a great day getting there from Hanoi, the rain came. The next the rain slowed down a bit for about 2-3 hours so I tried exploring the area as much as possible.
Thác Hiêu waterfall, is not very exciting haha.
Rain was coming down harder and harder as the afternoon progressed.
Headed back to my room and decided I would leave the next morning.
Woke up to heavy rain in Pu Luong but you can't wait for the weather to clear up forever, so I got on the bike and drove to Mộc Châu.
The drive was miserably rainy but also a fun experience. It's about 105km to get from Pu Luong to Mộc Châu and it probably rained for about 103 of them. The sad part about the rain and low clouds is that you can't see the landscape along the way.
It did stop raining when I got to Mộc Châu, I checked in at A Chu Homestay. The humidity was probably 200% and all my clothes were wet, even some inside my bag. They did have a place to dry them which was great. I was told about a traditional village not too far away named Hang Táu, but I was done with driving in the rain so I requested  a car to drive me there.
The view just before getting to the "entrance" of the village, Ta So is the "new" village:
From there you'll get to a side road that leads you to a village, the road is very difficult to ride, especially when it just rained. You can just walk, it's about 1 hour to get to the village. You can ride with a local "bike taxi" for a small fee, but even they had trouble riding it that day. If it's dry it's should be fairly easy to ride. I went with a car anyway so we walked, me the village chief and the guide/driver.
This is the exact location of the village: https://goo.gl/maps/AmfkNu1rsDzKd2Tr6
The place where the drivers wait for people to drive to the village:
The road: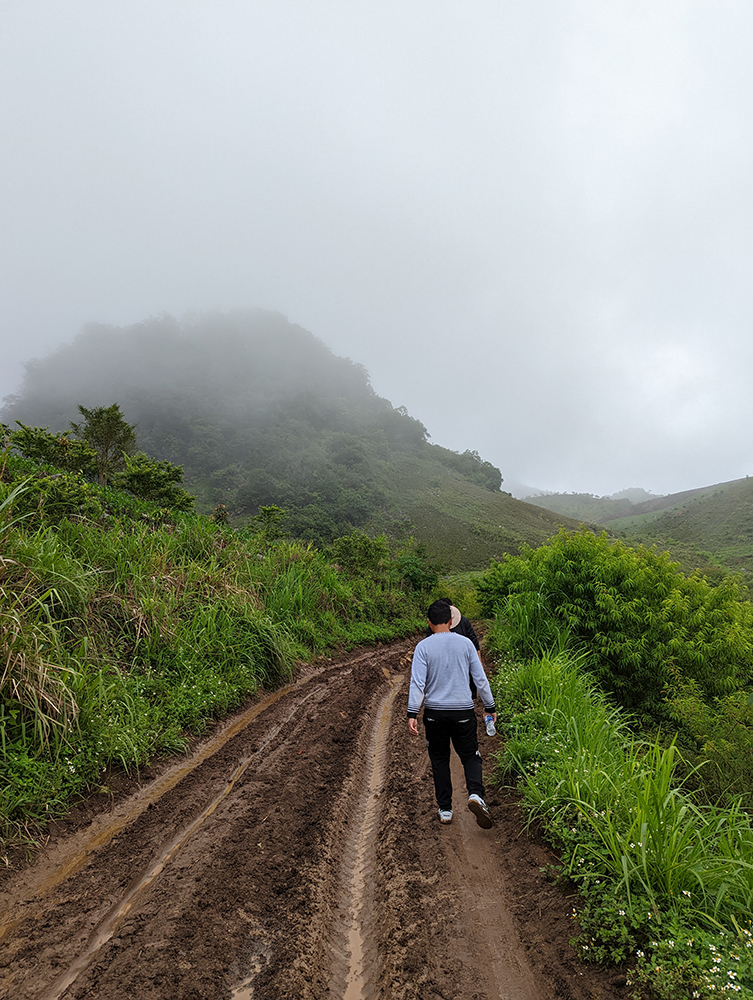 The village entrance:
It was very foggy when I got there, nice mood for photos.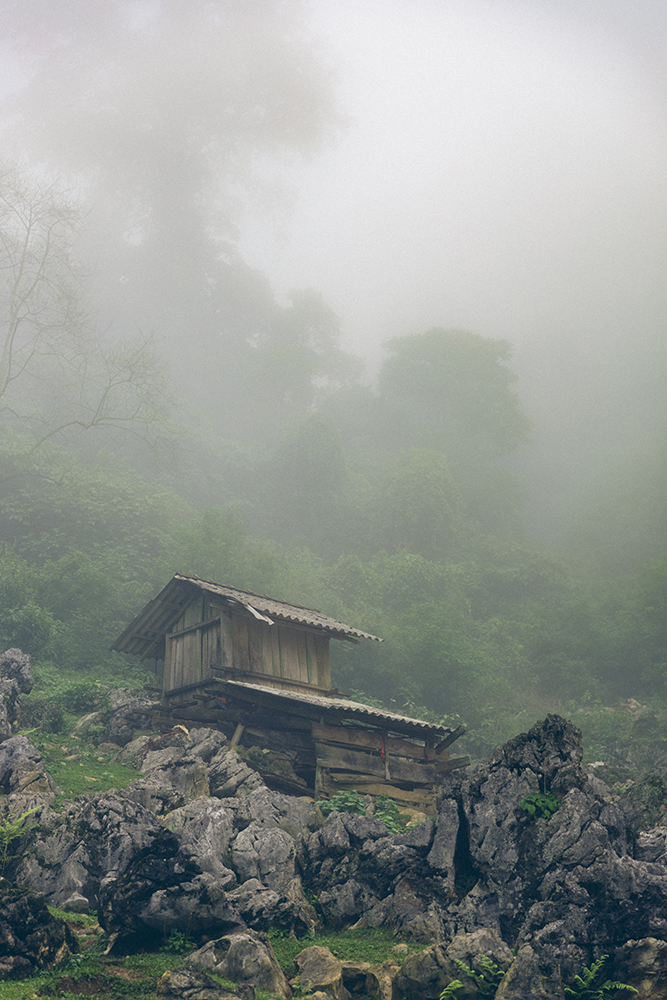 Cute kids hanging out: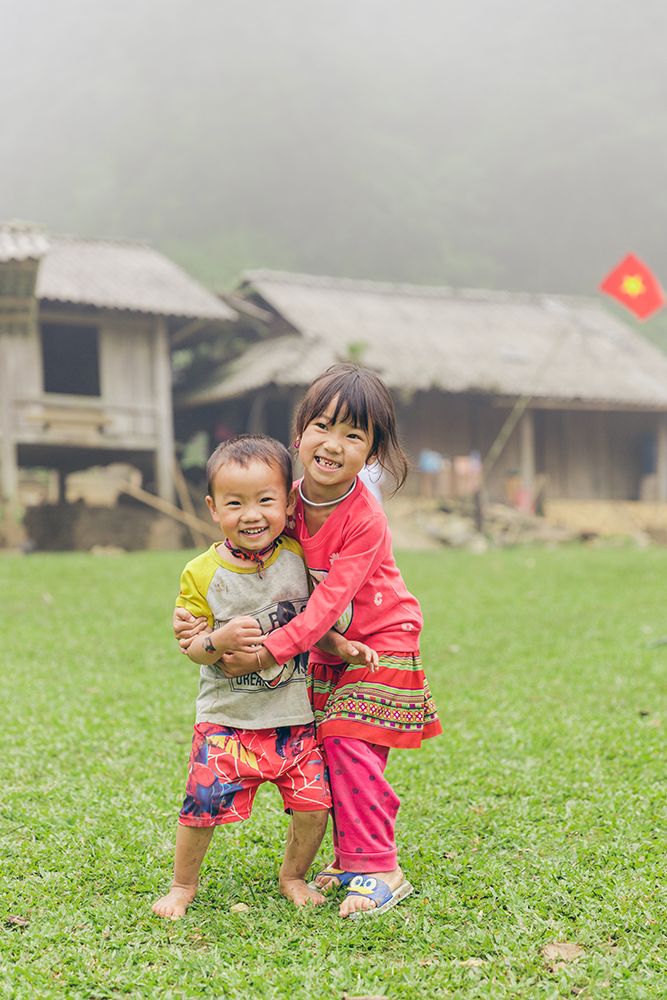 Traditional dress for the kids this is usually the girls hat tho, not sure what was happening here: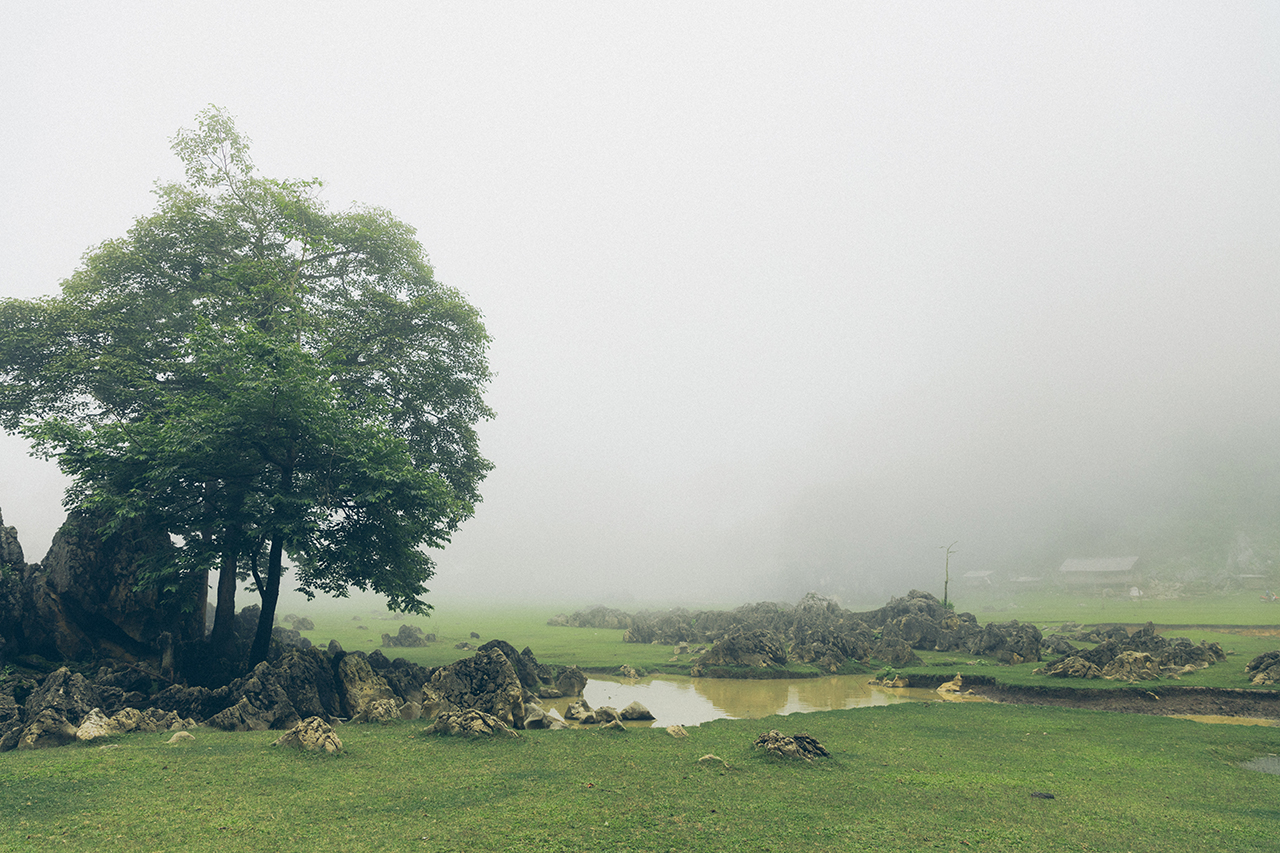 It is a very beautiful peaceful and beautiful place, but people don't live here, it's just a cattle ground, some people come there a few days a month to take care of the animals but most of the people moved out to the new village on the main road. It's still an amazing place to visit. If you want to get there with a guide, contact Hàng A Dê on Facebook.
The next day I drove from Mộc Châu to Tà Xùa, 120km, and guess what? It rained most of the way again. When I got to Tà Xùa it was extremely foggy, Tà Xùa is a village on top of a mountain where you can see kilometers of peaks in front of you, like this,  all I saw was a white wall of fog about 10 meters in from of me.
Woke up the next day to the same view.
It's time to keep going. After driving for 30 minutes the sky cleared up a bit and this is what I saw: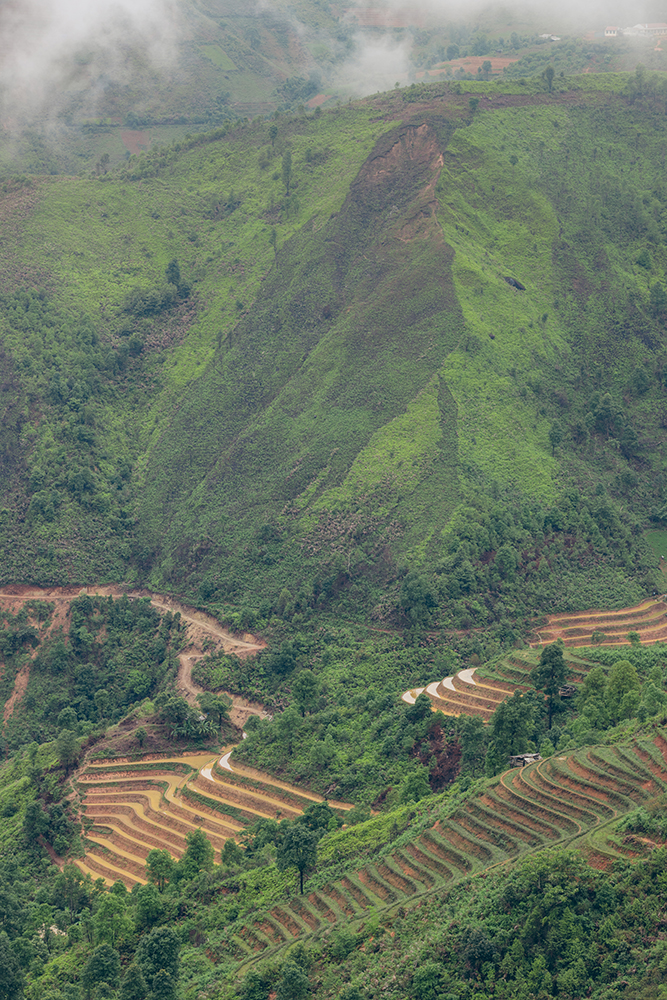 I was very happy with this sight, after such bad weather for so many days it was nice to see the landscape again.
Anyway, I was driving from Tà Xùa to Tram Tau, about 50km. I thought this was going to be a short drive but it was actually one of the worst roads I've ever been on. The road was open but under construction.
This is the entrance:
It doesn't look that bad in this photo but it was quite steep and very muddy, I tried to go up once but didn't succeed, my bike was not equipped for that kind of road at all. I tried finding another way, I thought only the beginning of the road was bad, there were no signs saying anything. After I looked around and looked at google maps, I saw this was the only way, other than going around about 150 km.
So I decided to try it again, this time I made it up that hill, but I didn't know what I was getting into. The road was under construction for about 30km. It was raining, muddy and dangerous. Some rocks came down the mountain due to landslides.
After a little over an hour of driving without knowing when this would end and where I would end up, I got to a very steep hill that was just mud. Two locals were at the bottom of the hill, I tried asking if I can go up and they had very different opinions, one gave me the thumbs up and the other told me I'd probably die. But at that point, I just decided I wanted to try it, fuck it. I drove up and made it to about 70% of the hill, I had to get off the bike to drive it up the hill, and my flip-flops were so muddy I had to go barefoot up the hill while pushing/throttling the bike.
Great views along the way:
Luckily after that hill, this hell was over. I made it to the highest point of the pass and the road was mostly paved on the other side, it was new pavement and some parts were still not done but it was 100% better than what I had just experienced. I was so happy I made it out of there without any issues.
This is what you need (NOT MINE) for those roads:
This road trip was just going from bad to worse haha. The 5 days of rain in a row, now this crazy road, I was a little bit on the edge of flipping off.
The main attraction in Tram Tau is a hot spring, that's where I spent the rest of the day to relax and regroup!
The next morning, I woke up to a clear sky! What a sight. My plan was to drive up to Bản Cu Vai but on the way there the last few kilometers of road to get to the village was muddy from the rain, and after the previous day, I was not about to go up another muddy road. I was close by enough to just send the drone up.
The view from the start of the muddy road wasn't so bad either:
Kept going to my next destination, a village that a friend recommend me to visit, a very quiet, local countryside village named Bản Lướt.
A few stops along the way, without the rain and fog there was so much to see!
Stopped in the main city in the area, Nghĩa Lộ, for food and to have the bike washed: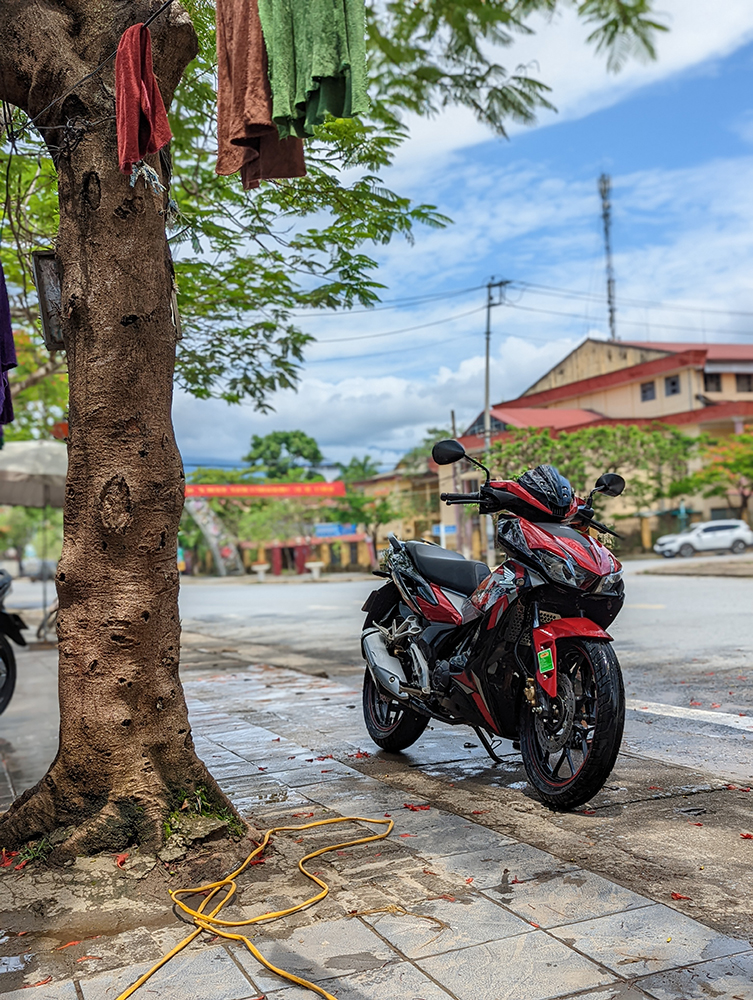 Random place along the way: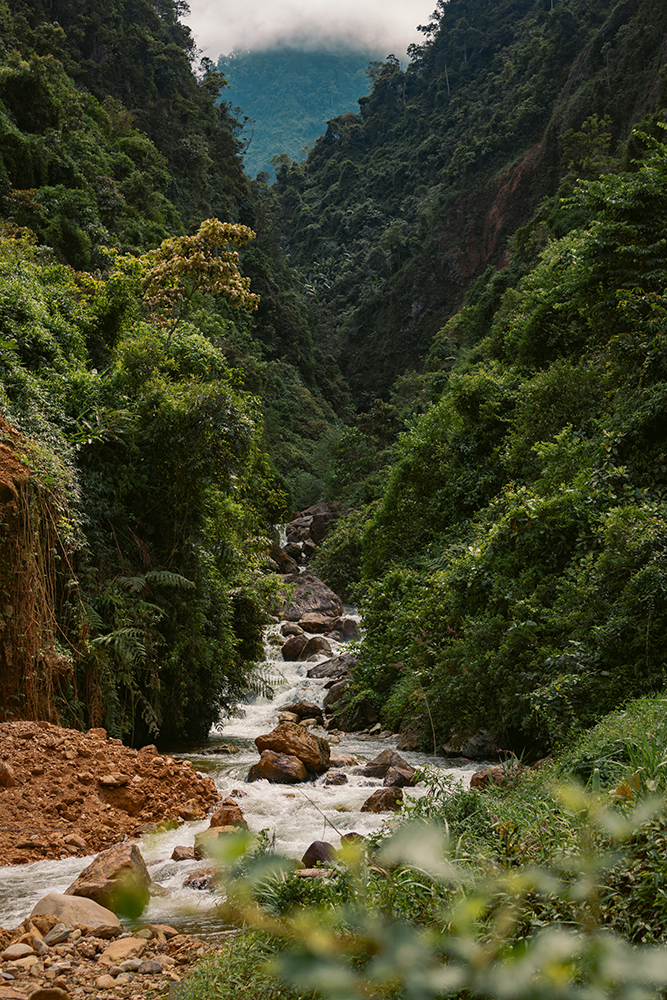 Kept driving and the next photo stop was Khau Phạ Pass, what an amazing pass.
This is a panorama from one of the towers local made for the tourist to look at, you can go up there for about 10k dongs.
I then took out the zoom lens and here are the results:
After that, the drive is great until Bản Lướt (Luot village) in Ngọc Chiên district. My destination was Sơn Tra Homestay Bản Lướt which is located here exactly.
This is a very simple homestay in a very simple village, the purpose of visiting this place is to see how the locals live in the countryside and just take it easy. Relax in the middle of nature.
You can also chill in the natural source hot spring baths. Nearby this village (~20km), there's an amazing valley full of rice fields and also you can go up to a Hmong traditional village up the hill.
First, let me show you the homestay and its surrounding, this is the main house, they have a few more houses in the area where you can stay and also one up the hill in the Hmong village:
This is about 15 minutes walk from the main house and you can stay there (I think, ask them, the house with the 3 white windows):
The hot spring baths:
Inside the main building where you have your meals usually:
The host:
The employee is a Hmong girl from the village up the hill: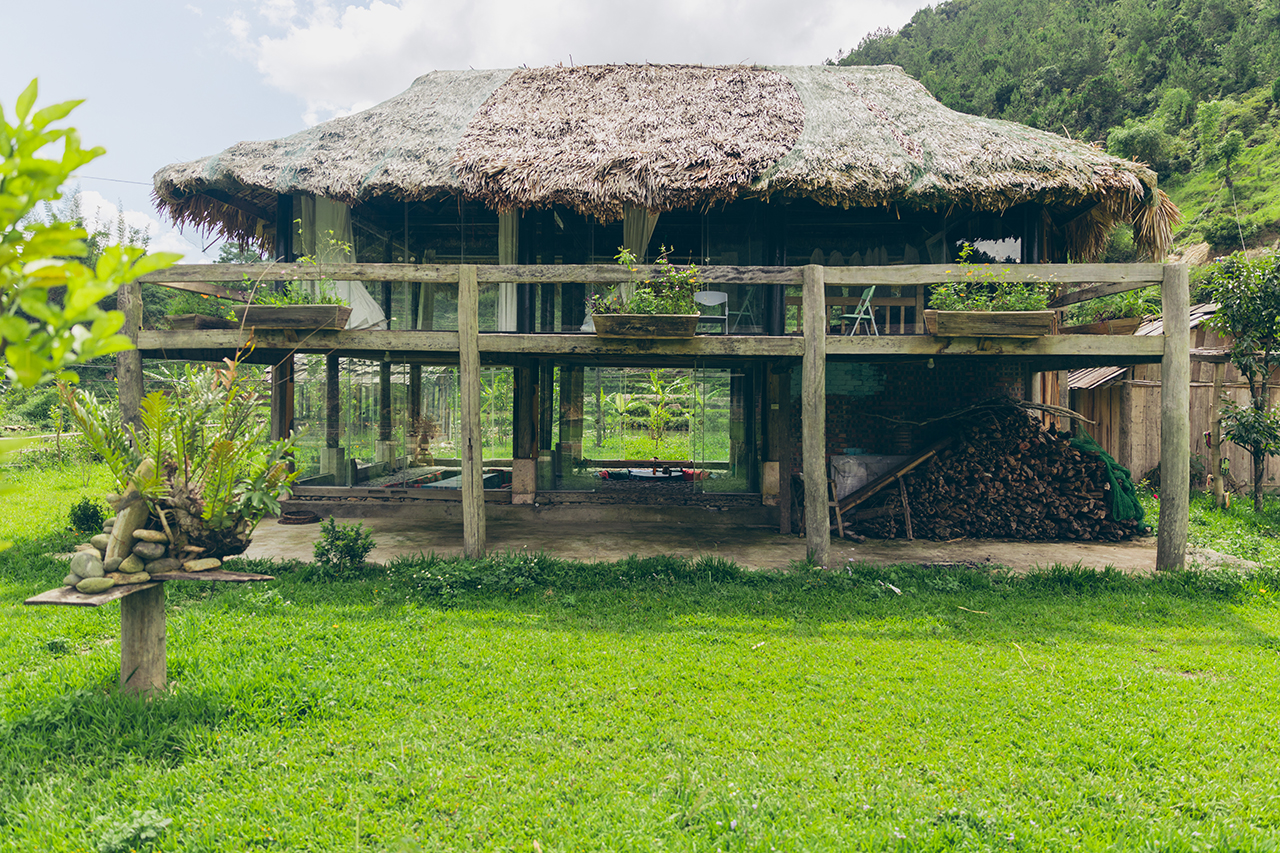 Here's what the village and its residents look like:
A bit later the host brought me to that amazing valley 20km away, not sure of the name but it's here, you can't miss it when you get there. Stunning view.
Curious kid:
On the way there (and back) you'll see this little bridge that has a cool tree coming out of a rock:
Curious locals:
This little trip from Luot village is WELL worth it. The next day it was time to go up the hill to the Hmong Village called Bản Nậm Nghiệp.
The road to get up there is quite bad as of June 2o22, they have plans to fix it but who knows when that's going to happen. It takes about one hour to go up by motorbike. If you plan to go on a motorbike be sure to have the skills and motorbike needed to do so, if you don't, the homestay can organize something for you.
This is not a tourist village per se, they are not trying to sell you anything, it's mostly just people living their life, this will probably change with time but for now, that's what I felt and saw.
This place is stunning during the blooming season, in march (I think in September also). But it was still very nice to visit. Locals Hmong people are curious and friendly.
The same owner has another homestay up there where you can stay overnight:
Private cabin:
With a view:
The village from above:
Houses look like this out there:
Inside this house:
Local people:
On the way down I saw this kid riding a buffalo:
This whole area is great if you are curious about local life in the northwest of Vietnam.
You can contact the homestay here: https://www.facebook.com/sontrahomestaybanluot
On the way back I stopped in Mai Chau:
I was a bit tired so I took it easy on the last day there before going back to Hanoi.
A road trip to the north of Vietnam is ALWAYS a good idea. Don't miss out. There's some much more to see and I only scratched the surface, I'll be back for sure.