After the local experience at Ban Huayplalod, I decided to take on the infamous Mae Hong Son Loop.
I drove the loop from December 24th to January 1st, a total of  8 days.
First I want to thank Cat Motors for providing a great bike in very good condition with exceptional service at pick-up and drop-off. If you want to experience the Mae Hong Son loop or just drive around Chiang Mai, I highly recommend Cat Motors to rent your bike.
Here's the map I followed on my Mae Hong Son loop version, many people have different versions, shorter, longer whatever you feel like there is no definitive path to roaming around the north of Thailand's best roads.
Here's the complete set of photos.
The bike provided by Cat Motors for my tour was a 2018 Benelli Tornado TNT 300 it was my first riding a proper bike but I think a 300CC motorcycle is great to enjoy the roads of the area. The power of the bike is just enough to be able to enjoy going full throttle but not so much that it's dangerous to arrive into one of the thousands of curves too quickly.
The first day I did one of the most popular stretches of this loop, the road between Chiang Mai and Pai. The road is said to have 762 curves, which is probably true, it sure turns A LOT.
The Benelli in its natural habitat: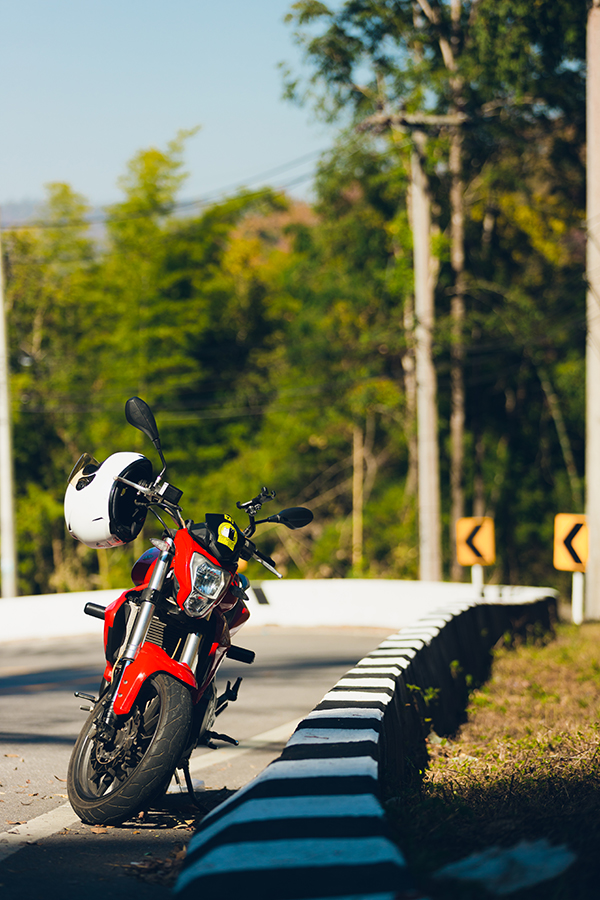 The road is amazing, I was riding safely as this was my first time riding a "big motorcycle", 200kg, and it's easy to get carried away and crash as many do on that road. Be careful out there.
That being said the road is very fun to drive but I was a little underwhelmed by the view, almost nothing to see while you drive, the forest is on both sides with very few openings to view the mountains around.
This was true for most of my road trip on this loop, the road condition is great, the fun factor of riding on roads with so many curves and level changes are undeniable, but the attractions along the way aren't on par with the ride. Maybe I am spoiled because I saw many places on my travels that impressed me much more, but that's how I felt for almost the whole 8 days I was riding around there.
Ah, Pai, I heard so many good things about this place, but to me, it was a bit disappointing, the Pai canyon is an ok attraction but they are trying to hype it up because there's not much else to do in Pai other than chill and enjoy the weather. Here are some canyon images: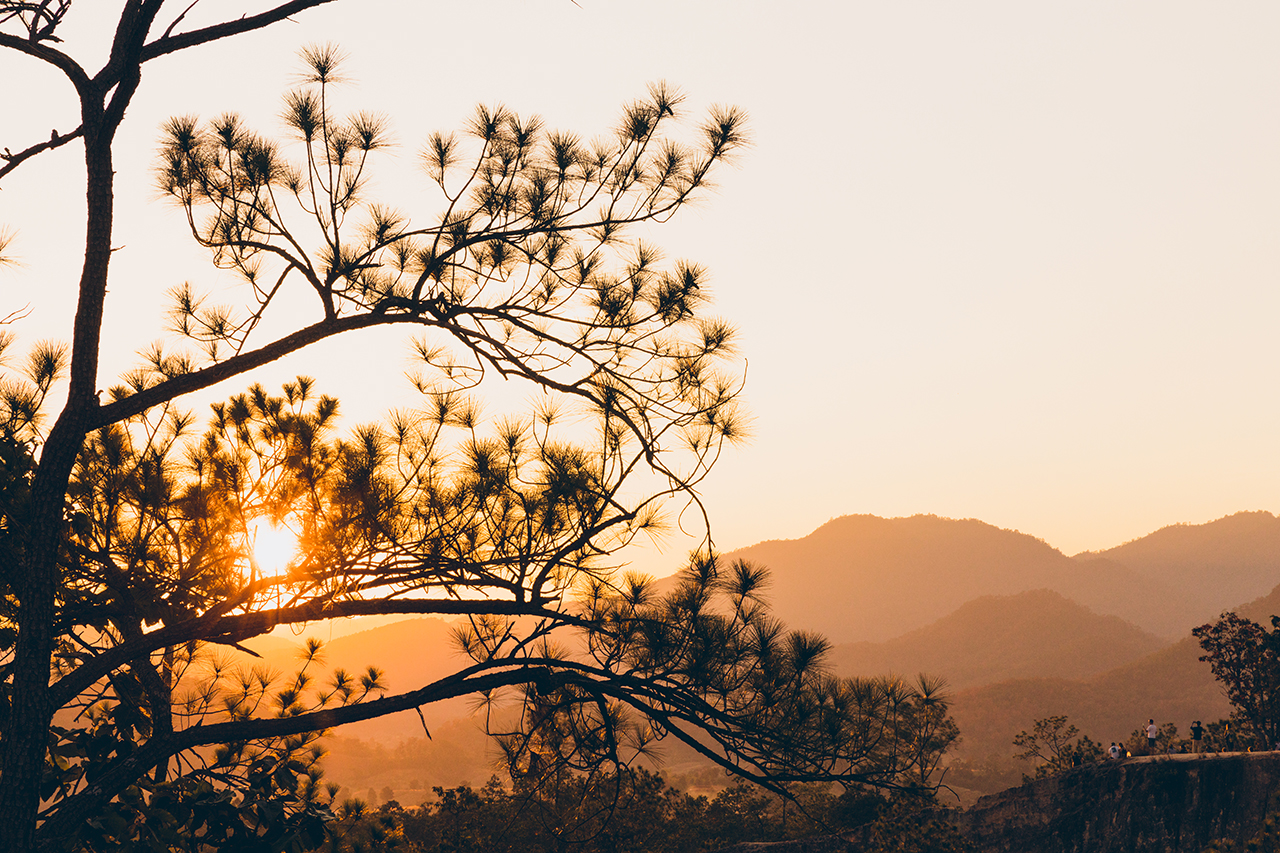 There's also a big Buddha, there are as many big Buddhas as there are 7-Elevens in Thailand, that was a skip for me.
Anyway, I spent the evening there and moved on to the next stop the following morning. Destination: Ban Rak Thai.
Ban Rak Thai is a small "Chinese style" village with a lake and a hotel built on the hill within a small version of the  "great wall" and some tea plantation. Strange place, I spent a night there, it's more than enough, trust me.
Just outside the village, there are fields that must be much nicer to look at when it's not dry season:
On the way to Pang Oung there's a nice coffee shop you should stop at called Coffee Camp.
Before getting to the lake I stopped for some photos of the bike.
Pang Oung lake isn't very impressive but you can camp or stay in a small homestay near the lake and there are times during the year when you wake up to a nice foggy lake morning. I took a few photos and left.
Direction, the city the loop gets its name from, Mae Hong Son. This city is a starting point for many tourist attractions. Again, many temples and a very popular one, Padong Longneck Village, I read about the Padong Longneck Village and decided not to visit it. Google it if you are curious why but it sounds like it's a human zoo.
Clean streets of the city:
I stayed there for 2 nights, just taking a break because my trip was going faster than I planned since I didn't find the other areas that interesting and kept moving. Anyway, after that, I rode to Mae Sariang, another small city, another great twisty road for a few hours. Here's a drone photo, you see it's very similar to all my other drone photos. Not that much to shoot around there.
There's a cool viewpoint at some point, must be nicer in rain season too:
Stayed a night in Mae Sariang and the next day I went on a little adventure that not many tourists seem to go. I had barely any information about this place other than it looked great on Google Maps. The destination is called Doi Pui Co. It's a camping ground/viewpoint on top of a mountain. There's another location near Chiang Mai with a similar name, do not confuse it. If you follow Google Maps you will get there but be aware of a few things:
First off, the road to get there is not paved all the way up and it's sketchy at times, be sure you are comfortable with your bike or you can get a pick-up ride up to the mountain with the locals for a few dollars. It's about 45 minutes to get to the "trailhead" parking from the main road.
Once you get to the parking you have to speak with the locals if you want to rent a tent, be aware that their native language is not Thai, they have their own local languages, so finding someone who speaks English is a challenge.
After that, you will need to hike up about 40 minutes. You can pay the locals to carry your stuff for you. Be aware that there are no services up there except for a bathroom. With that in mind bring food that doesn't need to cooking, for dinner at least.
I'll let you enjoy the photos and discover the rest by yourself:
Sadly the sunset wasn't visible. There were a few man-made fires in the area and clouds so the sun was hidden behind all that. In the morning it was foggy but the sun popped out. Here are some photos from the drone at sunrise.
It was the holidays for the locals too, usually is not this crowded:
It was quite an experience even though the tent was super thin, cold and humid it was very beautiful and fun, undoubtedly the highlight of my loop road trip. The next morning I drove in the mountain fog back to Mae Sariang for a night of good sleep.
I had plans to drive to some rice fields near Mae Chaem but the road was not usable with my bike. Muddy roads and sports bikes don't really work well together. On the way to Mae Chaem.
So I stopped over in Mae Chaem for the new years eve. I found a small local party, had a beer and went to bed. Yay! Happy new year!
The next day I drove back to Chiang Mai through Doi Inthanon national park. The park looks pretty cool with many paying activities offered but I didn't really find anything suited for my interests and it was also pretty dry out there. I decided to keep pushing to Chiang Mai with just a few photo stops.
I decided to spend the two last nights of the rental I had in Chiang Mai exploring the city. Visited a temple, can't remember the name but it's not that different than the other 100 temples in the area:
I enjoyed the sun and returned the bike the next morning.
Did I enjoy riding the 2018 Benelli Tornado TNT 300, around the hundreds of curves and amazing pavement of loop? F### YES!! Would I recommend this to someone who wants to see interesting stuff, no. Go to northern Vietnam if you are looking for amazing landscapes while riding a bike, I  must say the roads are not as good as in Thailand thought. There are places I didn't visit, such as Lod Cave near Pai, Mae Surin Waterfall near Mae Hong Son and others locations around the loop, the reason I didn't is either because it was too time-consuming (2-3 hours hikes one way) and/or I've seen similar and/or nicer attractions in other areas of Asia. Maybe if this is your first trip to the region you will love every second of it.
Thank you for reading and enjoy your travels.