I spent 3 nights in a local village in Tak province, Thailand. From December 20th to 23rd 2019.
This is quite an experience if you want to immerse yourself with the countryside life in the forests of Thailand.
There's no phone signal or electricity in this village.
The name of the village is: Ban Huayplalod, or in Thai: บ้านห้วยปลาหลด
To stay there you will need to contact the "chief" of the village, he only speaks Thai, so if you are in Bangkok get someone to translate for you. Be patient there's barely a phone signal and no internet (3g) signal unless he goes away from the village to the main road or mountain.
Contact: Mr. Jakkrit
Cellphone number: +66 0932305255,
Line ID is its phone number: 0932305255
Village name: Ban Huayplalod (บ้านห้วยปลาหลด)
If you are coming from Bangkok you will need to get a bus from Bangkok to Mae Sot and tell the driver to drop you at the get off point: "Talad Muser Mai", or in Thai ตลาดมูเซอใหม่.
This is an adventure, so I'll let you figure out the rest! But it's not as difficult as it sounds.
The bus to get there: (Cellphone photo)
Not sure what they want to illustrate with that "illegal immigrants caution" pictogram ?: (Cellphone photo)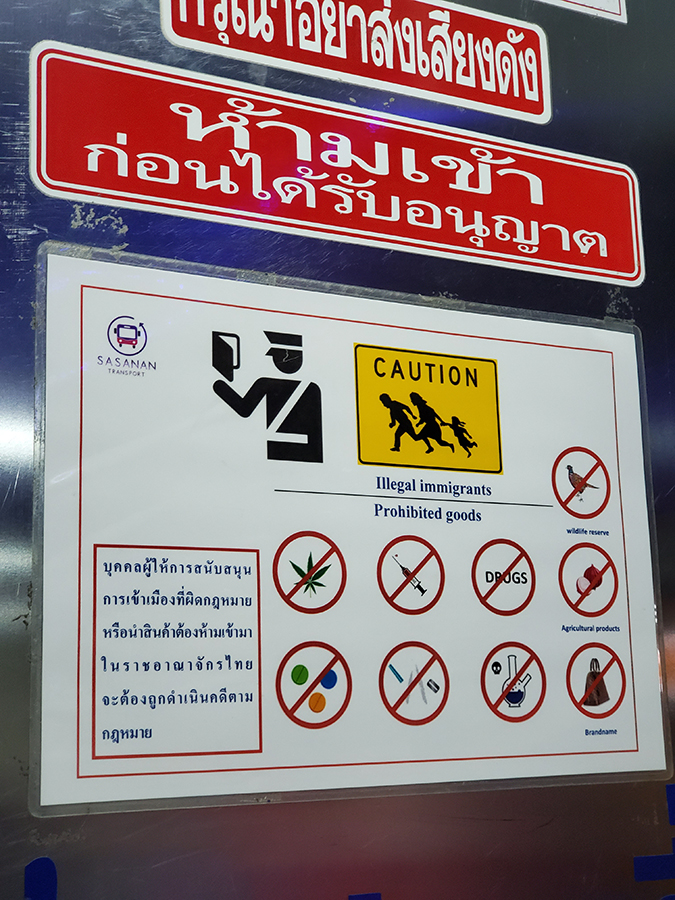 Here's the Full Album of my camera photos. I will also post Cellphone images in this post.
I'd recommended get there in the day, leaving early from Bangkok, for logistical reasons we got there in the middle of the night and Mr. Jakkrit was there waiting for us, at 2 am. Very reliable. You can trust him.
There are a few families that welcome visitors into their homes, the real definition of a homestay. We stayed with a nice woman and her daughter, her husband was away for a few days. Mr. Jakkrit will lead you to your hosts.
This is the room/beds that we had in that house: (Cellphone photo)
Keep in mind, there's no electricity, no heating, it can get cold in the colder months of winter, this is also in the mountain region, it will get under 20 celsius a lot.
This is how most meals are served, seating on the floor to eat: (Cellphone photo)
The food was always delicious, if you like Thai food you'll love what they cook for you, you can ask for specific things, they will gladly do it for you.
The local people are from a different ethnic group and have their own language, Thai is the second language so forget about talking in English with them.
The main street in the village:
The school is the only place with continuous electricity as of December 2019, they have solar panels to keep the classes going:
Agriculture is the main revenue of the village, they have very good land to grow all sorts of fruits and vegetables, in the past, they grew a lot of opium, but it's obviously illegal now and they converted to conventional agriculture. The forest is dense and full of flowers, bamboo and "honey" trees:
This is a "honey tree", hard to see with an image but this tree is very tall, about 50 meters high, they nail in "sticks" to go up the tree and get the honey that the bees produce:
Local girl taking care of her sibling while her mother is managing the garden:
You can ask Mr. Jakkrit or your host to visit the area, they can also provide you with a motorbike and you can drive around with them or by yourself, we followed Mr. Jakkrit to a local Buddhist temple in a cave:
The view is pretty nice from a nearby viewpoint: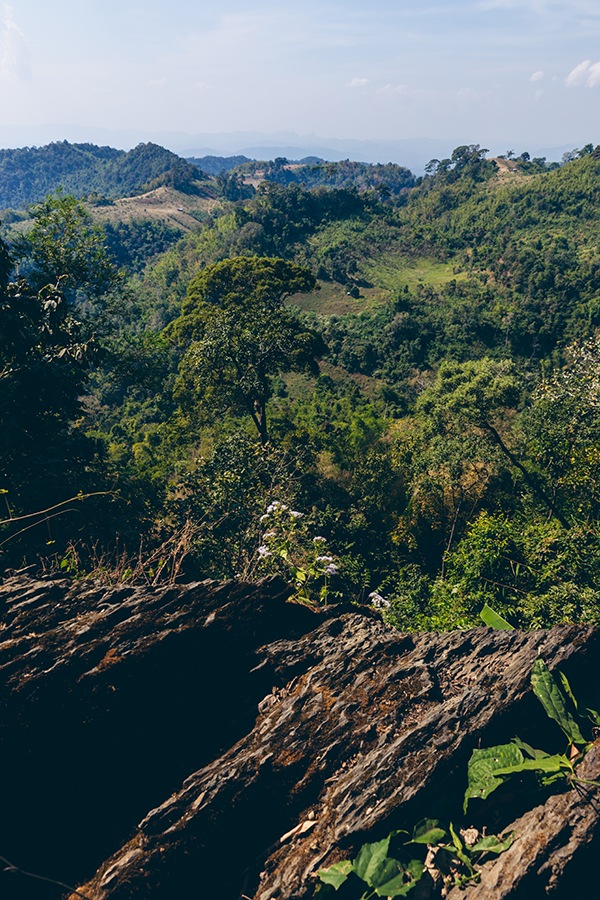 For sunset we went up to the village viewpoint, with a truck, where you can see the mountains and forest all around you, we had a picnic with Mr.Jakkrit and his nieces/friends: (Cellphone photo)
The sun setting:
Did some night photography but the clouds and fog made it a little difficult to see the stars as much as I was expecting:
The next day was a lot of fun, we spent about 6 hours wandering in the forest with Mr. Jakkrit. He showed us many great spots and just enjoyed nature in a very pure form.
This cave/arch, natural structure, is the main event of the day, well for me it was: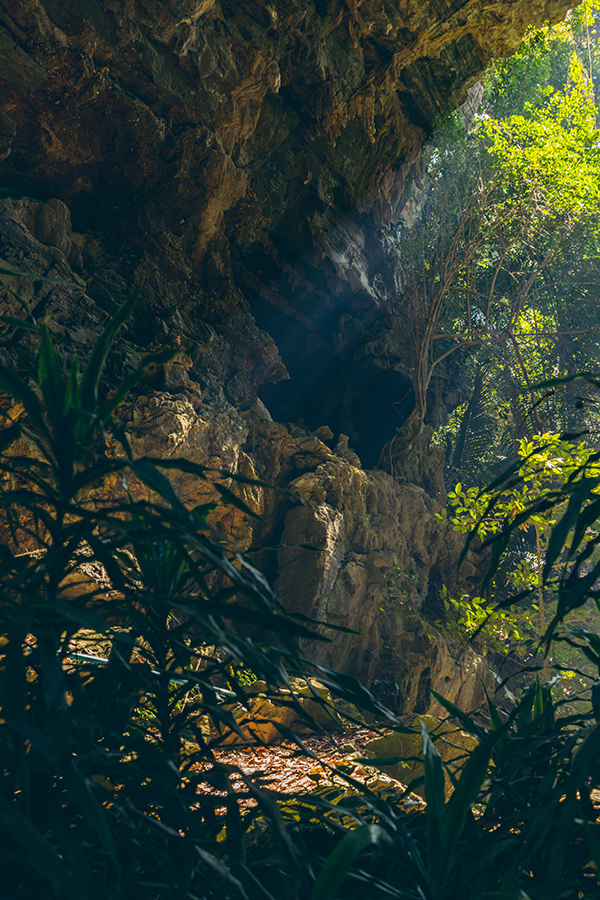 The light was great when we got there too. Very instagramable location.
From there we went into a cave, it's about 30 seconds from that view and you go inside a nice little cave, Mr. Jakkrit going in:
Cool light coming in at the other end of the cave, the cave is small, about 20 meters long:
Mr. Jakkrit then put down banana tree leaves on the forest floor and made us a place to eat lunch, which was great to enjoy lunch in the middle of the forest: (Cellphone photo)
After lunch we kept walking and visiting, we visited two more caves, the first one was big, it's difficult to show it with an image because there are no lights inside the cave since it's still a very wild place, you can kinda scale it with the sign on the piece of wood at the bottom of these photos:
The last cave we visited was like a Buddhist monk retreat, no one was there when we visited but you might see a monk there if you visit that cave, I am not sure why they go there but a bed and other things were there in what seemed like a temporary home: (Cellphone photos)
We then went back to the village, I snapped some photos of the houses, very traditional and simple:
After getting back to the village Mr. Jakkrit drove us to a local market on the main road that connects Tak to Mae Sot, people from all the villages of the area go there sell their goods:
We bought a few beers and snacks and went up to this location behind the market, amazing viewpoint to enjoy sunset:
Mr. Jakkrit enjoying the view:
Cheers!
The next morning we woke up at sunrise to leave to the bus station, you should book your bus from Tak station if you want to go to Bangkok or even Chiang Mai, it's closer to the village than Mae Sot. Mr. Jakkrit drove us back to the station for a small fee.
Before leaving we saw the traditional Buddhist monk walk around the village to get food for the day, very nice to see the generosity of the people:
A great experience, I highly recommend visiting this village if you like to go outside the tourist areas. You can't go more local than this.