Hello! It's been a while…
As we all know a pandemic hit our whole world in march 2020, at that time I was in Vietnam getting ready to go to India but when shit hit the fan. I thought the smart thing to do was to go back "home", to Canada.
After a few months in Montreal, I wasn't feeling like spending winter there, I then decided to go to Portugal where the situation was still pretty good.
At that time Portugal had barely any restrictions, no quarantine needed, no covid tests to get there, etc.
I was lucky to find a full-time, fully remote job in my "office life" field, telecommunications.
In mid-October, I landed in Lisboa.
(This post will include cellphone and camera photos)
Here are some photos while walking around and getting to know the city.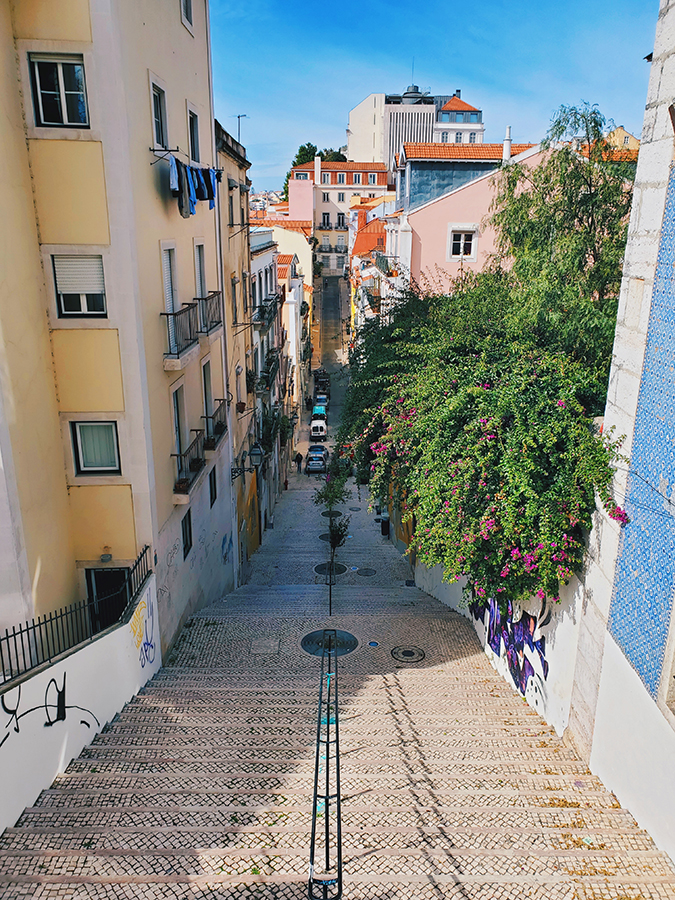 After a week I went to the famous Mirador Cristo Rei, amazing view of the city:
Full panorama view from the viewpoint:
And then the rain came:
A few days later, the view of Miradouro Parque Eduardo VII:
On the first weekend of November I went to LxFactory, an old industrial area that's now a hip market with shops and restaurants: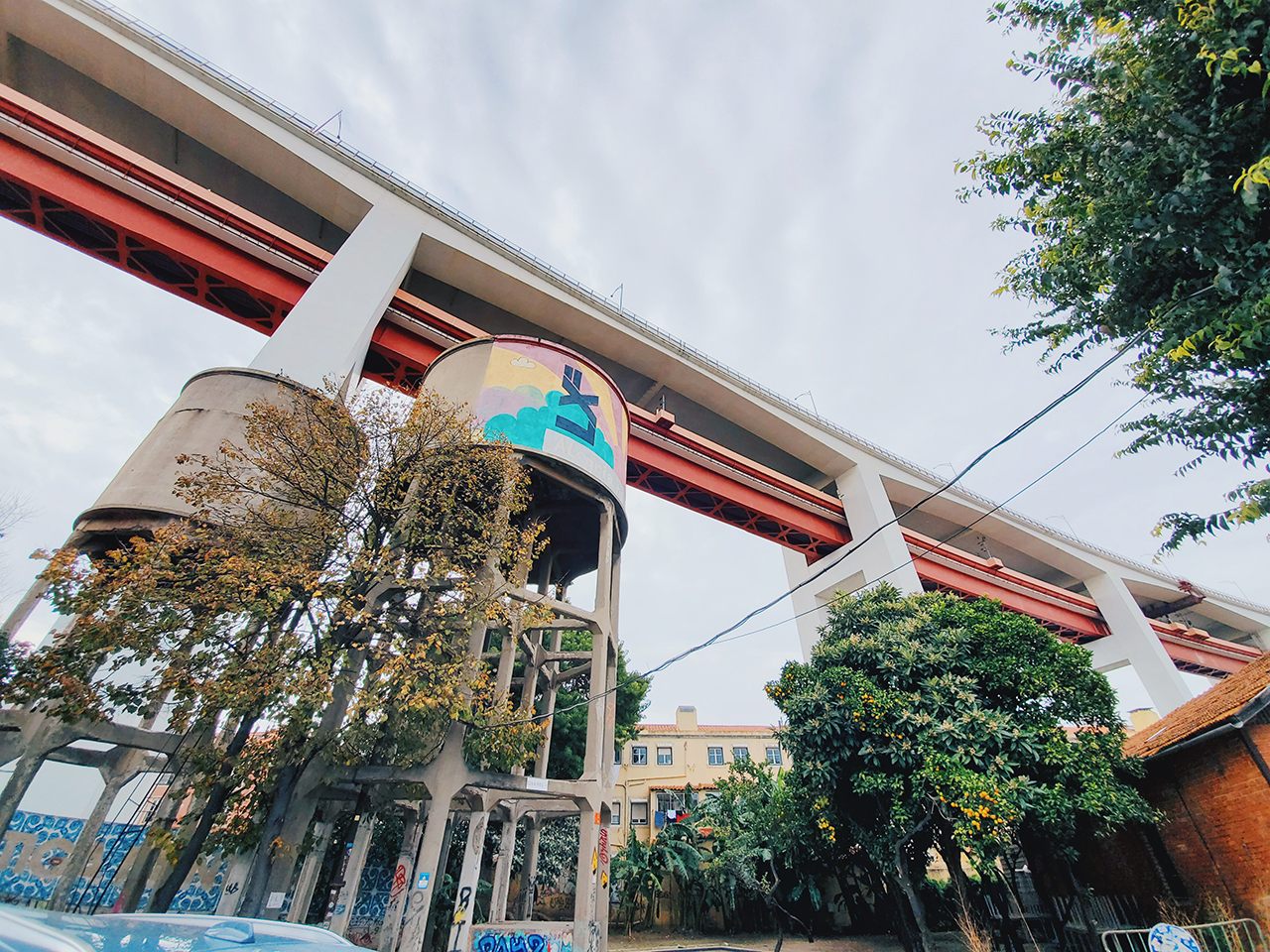 During the week, walking or scootering between my apartment and the coffee shops to work, you see many nice locations:
A walk around Graca and Alfama on Saturday:
On Sunday, November 8, they announced a curfew, starting the following day, everyone around Lisboa has to be home from 11 pm to 5 am on weekdays, and on the weekend it's from 1 pm to 5 am.
They announced the curfew for at least 2 weeks, so I decided to hop on the train that day to try and enjoy a nice day out before 2 weeks of curfew.
I took the train to the west, last station Cascais, wander around the city for about 30 minutes: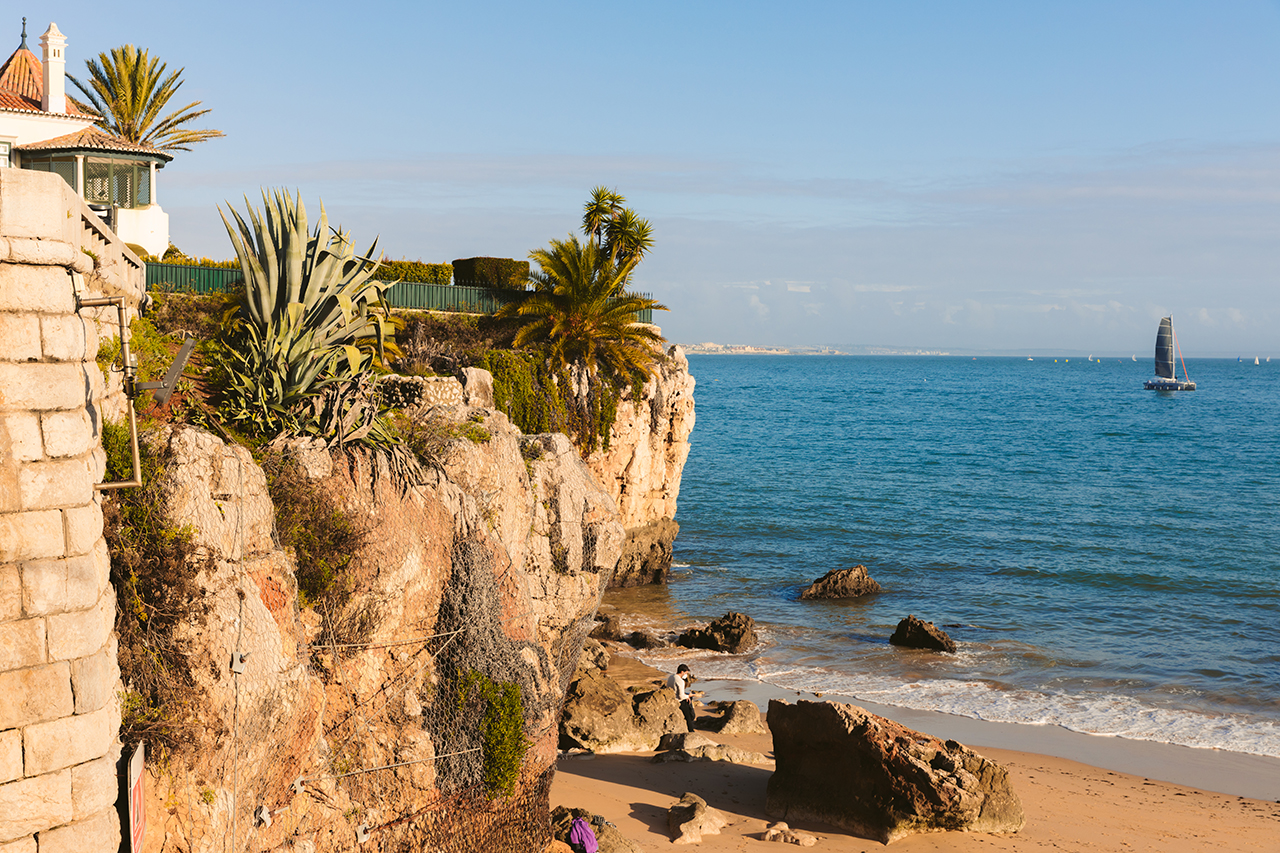 I really wanted to go to a beach near Cascais, I took a uber there, final destination, Praia do Guincho, a beautiful place:
More weekday walking around, the first neighborhood I stayed in for a month, Rossio:
A classic dish, the seafood rice:
Over the weekend, November 14-15, I decided to avoid the curfew by renting a car and driving away to a region that wasn't under the curfew, Alentejo, I decided to visit the coastal part of Alentejo:
The first stop was Sines, but that's not in Alentejo yet so I had to keep going and get to Alentejo before 1 pm.
First stop in Alentejo, Praia do Malhão in Vila Nova de Milfontes: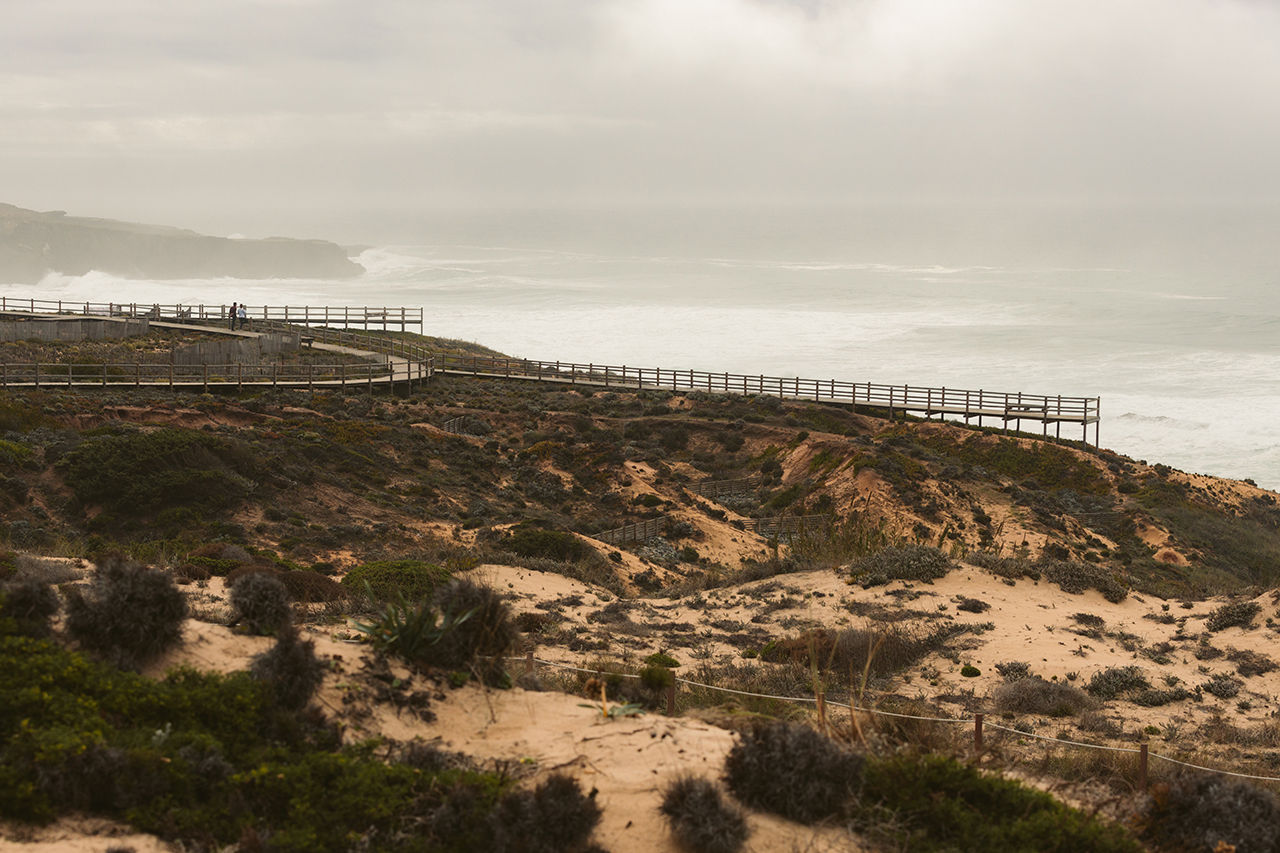 The next stop and sleepover town for the night was Zambujeira do Mar:
Nearby there's a great cliff and beach named Praia do Carvalhal, to get there you have to go a little further south on the road, across the bridge, up the road and right at the end of the ascend you can turn right and follow the fence to the top of the cliffs and enjoy the views for sunset:
I had no plans to go anywhere specific, the next day I kept driving south, stopping along the way at Praia da Azenha do Mar:
My next stop on the map was Praia de Odeceixe, another beautiful spot, this place was more crowded, can't see it in the photos but there were a few people: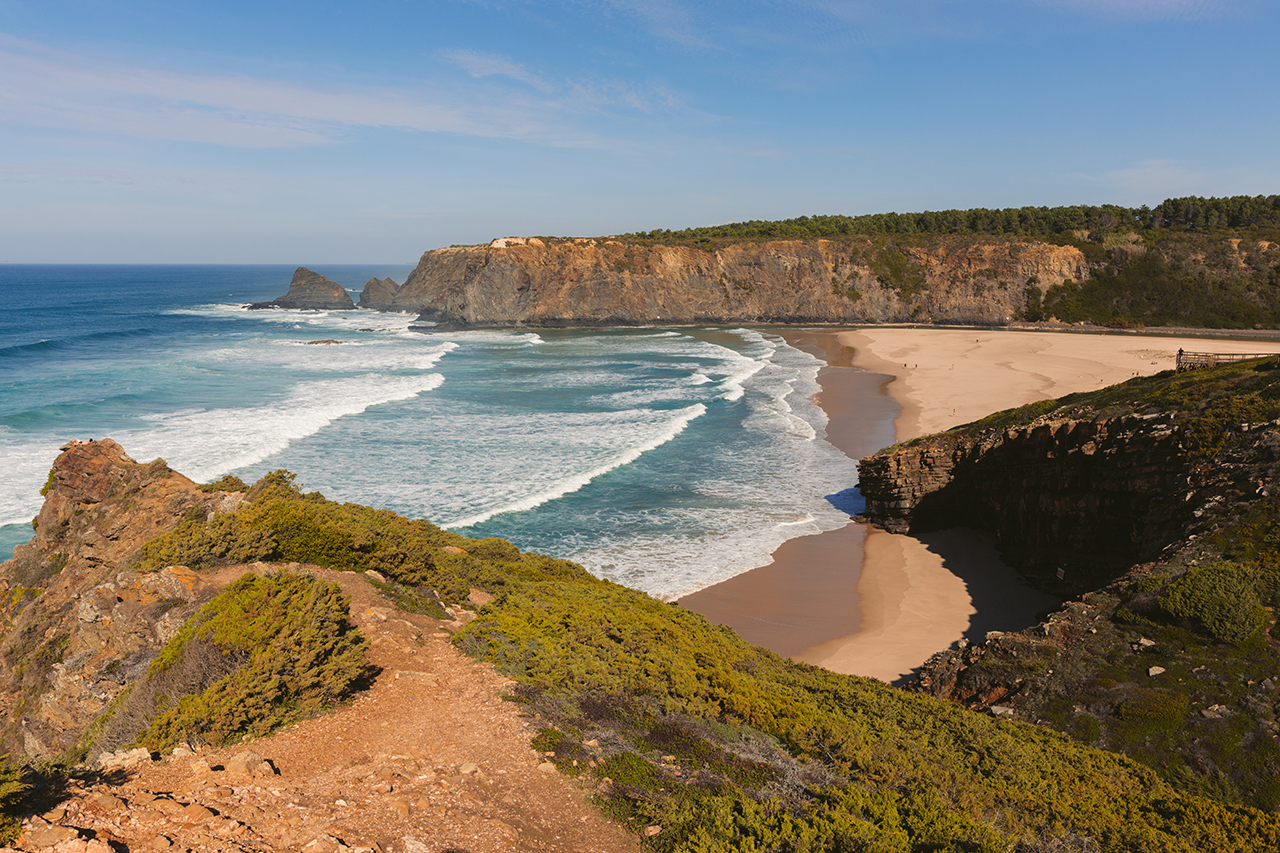 I was thinking of sleeping around Odeceixe but I decided it was too early and I wanted to see more of the coast, I'm glad I did, the next stop Praia da Amoreira was pretty chill, a surfing spot with great views.
The Amoreira beach is actually on the other side of the river, I guess I was in Monte Clérigo officially.
(That Pastel de Nata was horrendous)
Drove back to the beach of Monte Clérigo, crazy fisherman on top of cliffs:
And the beach:
After this, I randomly decided I might as well go down to Algarve and go check out Lagos!
Got there, was a bit of a mess finding a place to sleep, I had to go to three places to find one that was actually open. Algarve is quiet after September and with the situation, it was pretty difficult to find accommodation.
After booking a room I drove to Ponta da Piedade to photograph the sunset, didn't really had much time to find a good composition but I think it came out pretty good nonetheless:
The next day I woke up at 5 am, drove up to Lisboa from Lagos, 3 hours, 300km, mostly in fog, returned the rental car, hopped on a shared electric bike, got home, and start working!
Covid car rental prices were very cheap, the expensive part was the pay tolls and petrol. I had a compact car for ~7€ a day.
Random sunset in Lisboa during the following week:
The following weekend, November 21st, I decided to go to another location. Somehow Peniche, 110km away from Lisboa, had barely any restrictions.
Rented another car and drove up there on Saturday morning.
After having a delicious grilled chicken meal and booking a room I drove to Papôa, which is very close to the center:
After walking around I decided I'd try my luck at sunrise photography the next morning.
For sunset, I went to an area a few minutes away called Baleal, a very nice beach again, quite crowded.
(might or might not have erased some people out of this photo ;))
The next morning in Papôa some photos came out nice:
I had breakfast and drove back to Lisboa, had to be back in my apartment before 1 pm, curfew life.
The next weekend I stayed home, Wednesday was a holiday so every shop closed at 3 pm but the curfew was at 11 pm so I decided to go for a nighttime photo tour.
The next photo is probably my favorite from Lisboa I was able to take: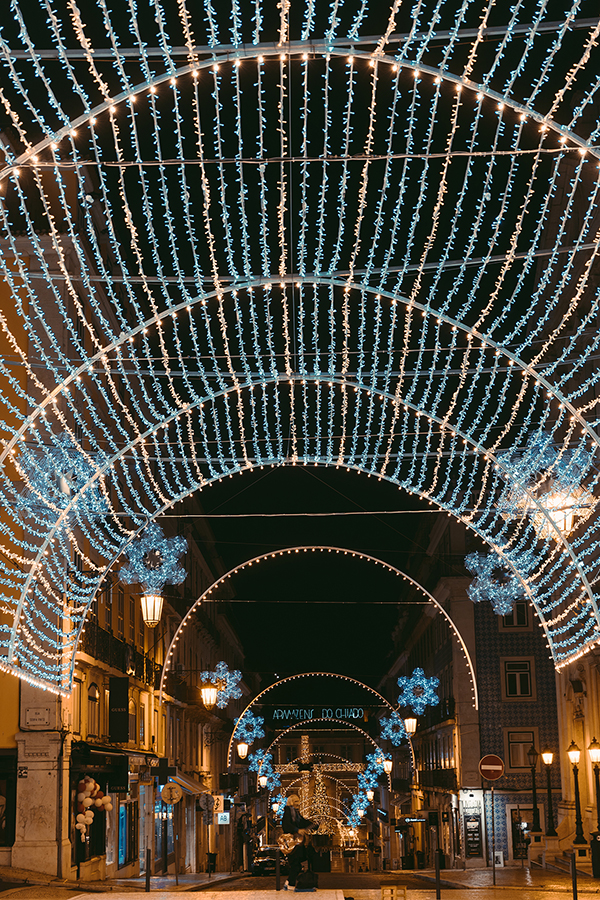 December 5th, restrictions got more strict, we couldn't move districts starting from Friday 11 pm morning until Wednesday 5 am, so after work on Friday I drove to Lagoa from Lisboa and booked a room for 4 nights until Wednesday.
Between the average weather and the working hours I was able to come out with just a few shots, mostly around Praia da Marinha:
I've seen much worse places to work from 😉 This is in Armação de Pêra.
Classic Portuguese dish with a view:
Very nice little coastal town:
That was my last real getaway until I left the country.
On the next weekend, it was a rainy day, all I did was go out to do my laundry and took these 2 photos of the neighborhood around sunset:
The process to leave the country was in progress, sadly Portugal was getting way too complicated to enjoy and another opportunity came up.
Knowing I was on my way out of the country, I had to go visit the Pastéis de Belém store to compare it to other Pastel de nata and for me, the king is certainly Manteigaria!
Anyway, after the Pastéis de Belém I walked around the area in the light rain, just had my phone with me:
On the weekend of December 14, I walked around the Alfama neighborhood with my camera, the classic photo of Alfama:
From a viewpoint:
The castle:
The next weekend I just walked around a park and on the boardwalk near the Ponte do 25 D'Abril:
One last sunset from the shore of the Tagus river:
And the next morning, on the 30th of December, I left Lisboa for Indonesia…
Last photo of the streets of Bairro Alto before leaving in the morning:
I have many more adventures to come in Indonesia, mostly in Bali since traveling around hasn't been ideal since I got here.
I feel like I need to go back to Portugal at some point "soon". There's so much I didn't do/see due to restrictions and wanted to do.
I am very grateful for the time spent there and feel like I was very lucky to even be able to do those things with all the restrictions.
More to come…. someday.
See ya