1 month in the south of Thailand, enjoying the island life.  July 21 to August 27th 2019.
I left Thailand abruptly for a contract in Indonesia, that's the reason I only covered the south of the country.
First stop, a very quiet island called Ko Yao Noi between Phuket and Krabi in the Phang Nga Bay. The island has no big resorts or any big attraction, is just a quiet place to take it easy and live the slow island life.
I would recommend coming from Krabi (Ao Nang) instead of Phuket if you can, Phuket taxi's are way overpriced to get to the pier which is far from the airport, the old city or Patong.
There's still wild places in Ko Yao Noi which is very nice and rare in that part of Thailand. You can feel locals like tourists but they don't want it to turn into a zoo like some other parts in the area. I was a little sick so I didn't photograph much of it.
Here's some views from Tha Khao Beach, the islet is called Ko Nok, you can easily reach it at low tide.
The limestone rocks afar make the scenery very dramatic in the area.
Ko Nok viewed from the top:
Inland the island is very luxuriant:
Water color around the island is not that amazing blue that you can see in some parts of Thailand, but it's warm and most beaches are nice to enjoy a swim:
I don't know the name of this beach, couldn't find it anywhere but if you go to Green Coffee Shop, you just have to go down to the beach to enjoy this view:
This is the infinity pool in one of the more upscale "resorts, it's called Koyao Island Resort, you can just walk in, enjoy a drink and the pool:
As I said previously I was a little sick for a few days on the island so I didn't photograph the area as much as I wanted but here's some other spots I visited with my cellphone:
One of the must visit locations is surely Long Beach, it's a bit difficult to get to be totally worth it, this is the wildest beach I saw in Thailand for sure and probably bound to disappear at some point:
A beautiful road that you can find here:
And this one is called Six Sense Beach, it's near the resort by the same name but easily accessible:
After about a week I moved back to Phuket island, I didn't do much research and booked an hotel in Patong, I would not recommend this to anyone. Patong is the epicenter of the party scene in the area. Bars everywhere, prostitutes (woman and lady-boys), "massage" parlors, more bars, people offering you drugs all over. I stayed on a back road but still you can feel the city is just a big party. Not my thing, maybe it's yours.
The island of Phuket has some nice quieter spots, this was taken in one of them, Yanui Beach:
On a different evening, same location:
The view from the Windmill Viewpoint is also nice:
As far as photography goes, even Patong can do the trick, on the north part of the Patong Beach you will find some nice rocks for a cool composition:
After a few days in Patong, I had enough, direction Krabi, after 3 buses, 3$US and 6 hours, I was in Ao Nang, Krabi! A smaller version, well much smaller version of Patong, much more quiet and enjoyable.
Noppharat Thara Beach: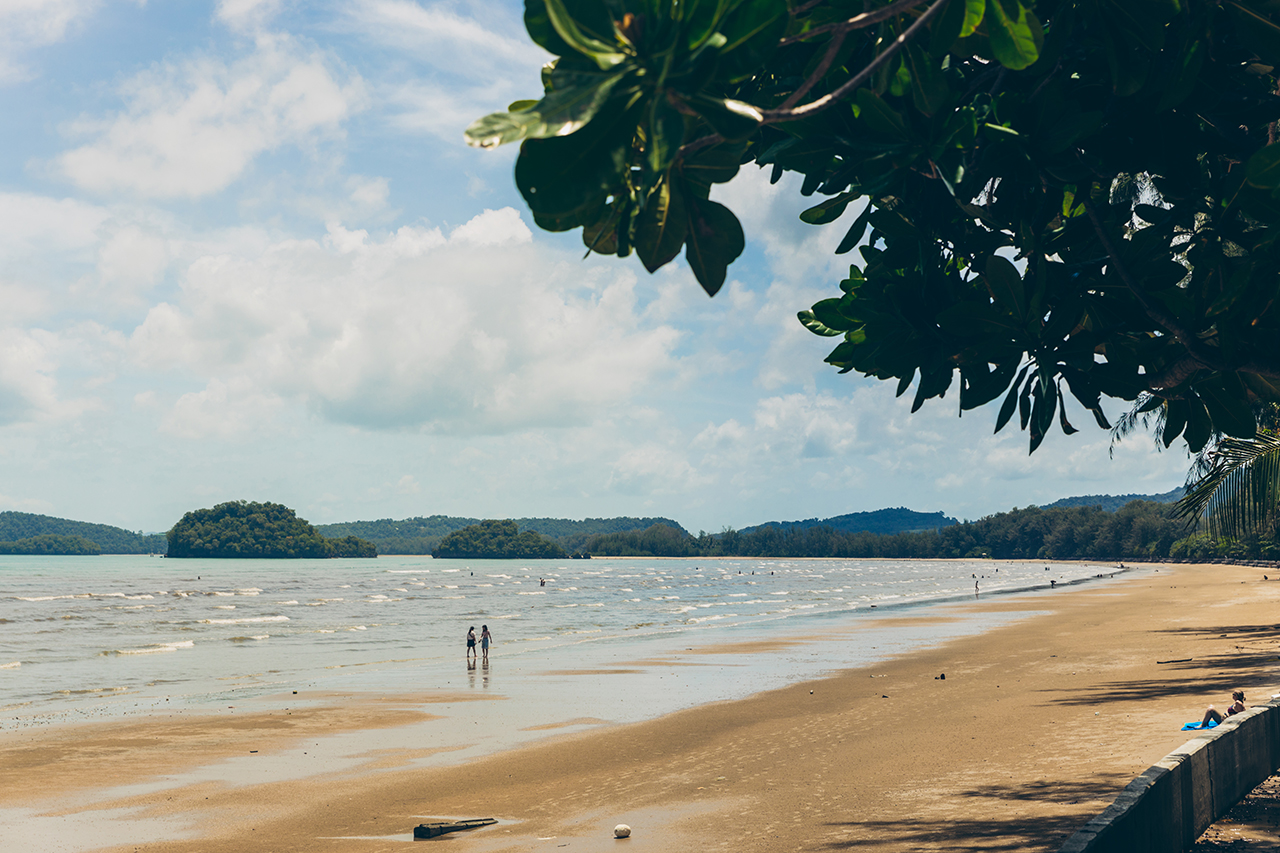 From Ao Nang, you can take a 30 minutes long boat for less than 10$US (round trip) to the very beautiful and touristic area, Railay Beach, this is not an island but the long boat is the only way to get there from what I was told:
A stop over at Tonsai Beach to drop some backpackers:
Drone photos from the area: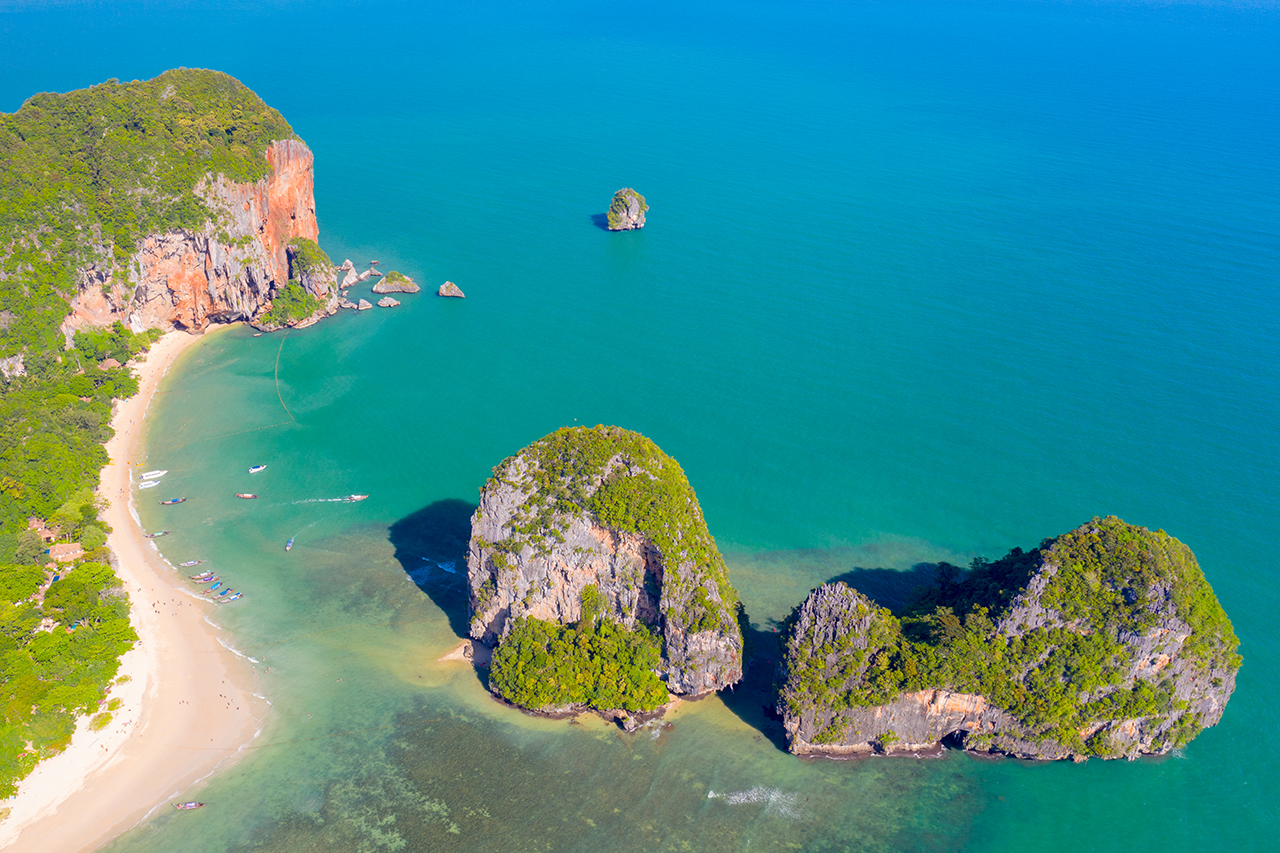 Views of Railay Beach:
Classic long boats in the water, but at this time of the year the water on the shore is brown due to "wild" sea: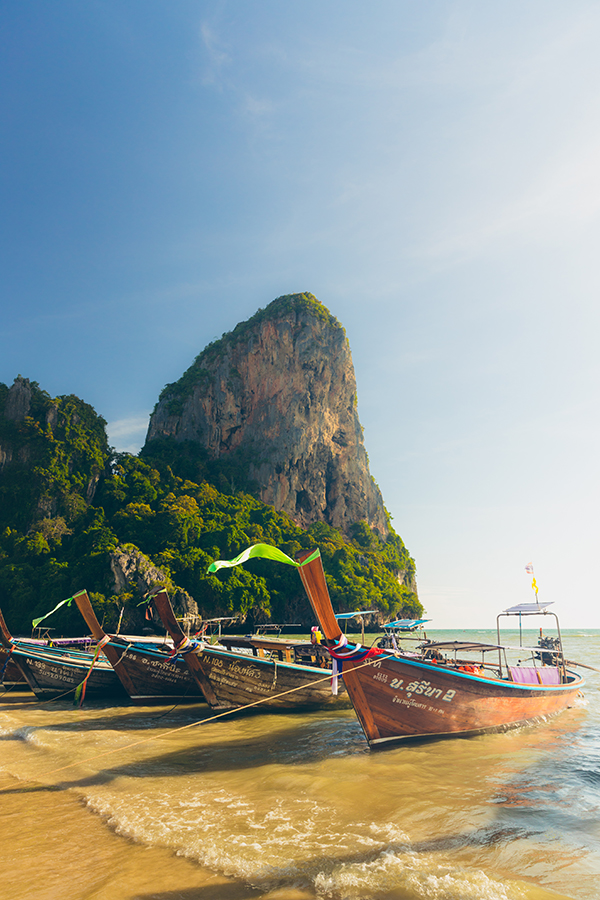 Back in Ao Nang for sunset:
The next day I set out to go do a trek at the Khao Ngon Nak National Park, I wanted to do it at sunset, even though it's a sunrise location. I arrived there at 4PM and the guards did not allow me to go up. You can go up at 3AM in the night but can't come down in the night. Go figure. Anyway I was a little pissed but decided to stay in the area for sunset.
I went to nearby beach, Tubkaek Beach, a good spot with silhouette photography:
A fisherman was there to play the silhouette model:
In the background you can see the Khao Ngon Nak National Park I wanted to trek in:
Nice colors in the sky:
This is the drone view of Noppharat Thara Beach:
When I came back from Ralay Beach I saw something from he boat, a big box that look like a huge mirror, found it with the drone:
Did some research and found out it's an art installation, you can read about it here. I decided to try and take photos of the sunset from there in the evening:
Inside the box:
That's it for Ao Nang and Krabi, spent a week there and it was time to keep moving, many people told me to go to Ko Pha-ngan, the Full Moon Party (the real one) island, why would I go there, Full Moon Party is the last place I want to be! People told me the island is great outside of the party, OK! Let's go then. Well for some strange reason I arrived there on the day of the Full Moon Party!! I decided to go have a look, stayed there for less than one hour. What a mess and total disregard for the beach and area. It's a shame but it's also how many people get to feed their families on the island. What can you do… Anyway let's move on!
The island gets very quiet after the Full Moon Party and there's plenty of beaches to explore, took the drone to Thong Nai Pan Beach, a nice beach with many hotels around it but on low season is very manageable :
Nice pool:
These ones are from Ban Chalok Lam, there's also a very nice bar for a viewpoint around there called Three Sixty, worth a visit at sunset:
This is Ko Ma:
Back to Ban Chalok Lam:
This island is all about beaches, there is some waterfalls but they were dry at that time of the year, which is confusing because it's supposedly rain season, anyway the sunset this time is presented at Zen Beach, a hippie/yogi beach, cool vibes, people go there in masses to watch sunset:
Another nice beach is Secret Beach, the sunset was not great that day but it's a nice beach to chill and the restaurant at the tip of the beach is pretty amazing, you should definitely go there if you visit the area:
Some drone photos from the Srithanu Beach area, beautiful colors and patterns in the water:
For my last sunset on the island I went to Leela Beach but the sunset was not that great, the beach is home to very nice hotels, another nice place to hangout, those beaches are public even though the hotels are right on it:
I can't say the south of Thailand is at the top of my list for places to visit, if you want beaches and party and don't care about mass tourism, sure it's great, but for me the tourism is out of control in that area of the world. I will try to get back to Thailand, try the north and also more remote locations. To be followed.
After this I had to go meet friends in Indonesia for a small contract, I took a taxi to the pier, a ferry to Surat Thani, a bus to Krabi, a taxi to the hotel, a taxi to the airport, a flight to Kuala Lumpur, another flight to Jakarta a flight to Bandar Lampung in Sumatra, Indonesia. I waited for my friends there, to then go to Krui, a 7 hours ride from Bandar Lampung. Well after one day there, my friends told me they couldn't make it, they decided they would go to Watukarung in East Java instead, got back on a plane from Bandar Lampung to Jakarta and then from Jakarta to Yogyakarta!! And then another 3 hours in a car and finally made it Watukarung to shoot some surfing buddies!!
Here`s a little montage I did from the 3 days I stayed there with them, yes all that for 3 days haha. It was fun anyhow.
More from Indonesia coming soon 🙂
kbye