July 9th, arrived in Tokyo from Montreal, Canada. I was in Canada for 50 days to visit friends and family.
Decided to skip the last leg of my flight to Ho Chi Minh City, Vietnam and get off at Narita International Airport, Tokyo.
Here's the Full Album of my pictures (Except cellphones).
Montreal -> Narita to Tokyo train (Cellphone)
I stayed in Taito, a neighborhood with a few touristic attractions, first one being this gate, the Hōzōmon gate:
In Japan you are not allowed to smoke cigarettes everywhere, they have these little outdoor prisons for them :
The Tokyo metro is a great experience, like so many things in Japan, it's clean, on time and people are very respectful:
Life in the small streets of Tokyo:
Sun going down in Taito (Cellphone):
The next day I went to Tsukiji Market, it's a legit fish market but they don't allow access tourists to the fish market anymore, there's all sorts of food stalls around the market. Many good and overpriced local delicacies.
Here's a ~75$US (8000 yens) skewer of Wagyu beef, yes that's one stick for 75$US :
7.50$US (800 yens) for one piece of melon:
Still a nice place to hangout and taste random food if you can deal with the crowds: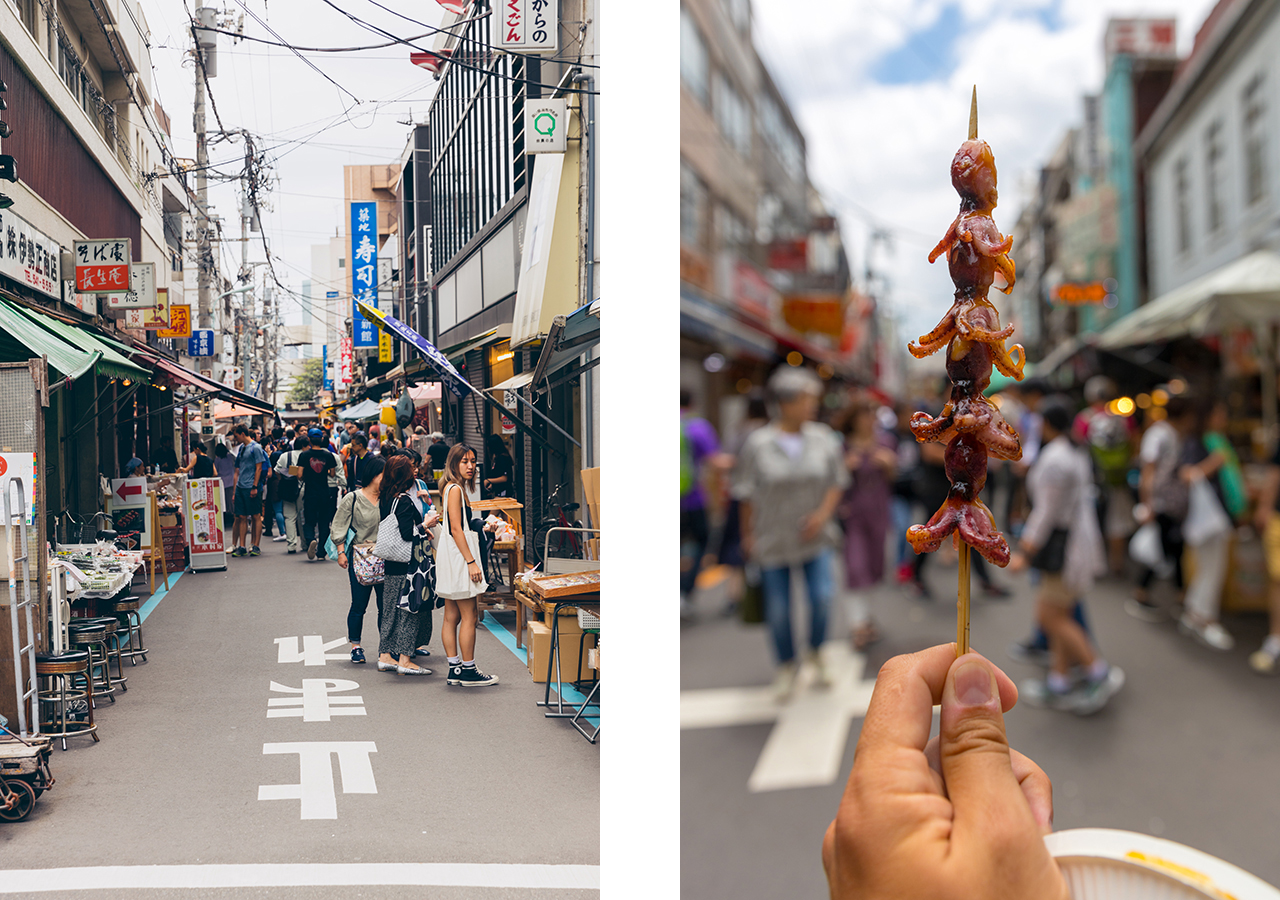 I then walked to Ginza, no space wasted in Tokyo:
Funky architecture in Ginza: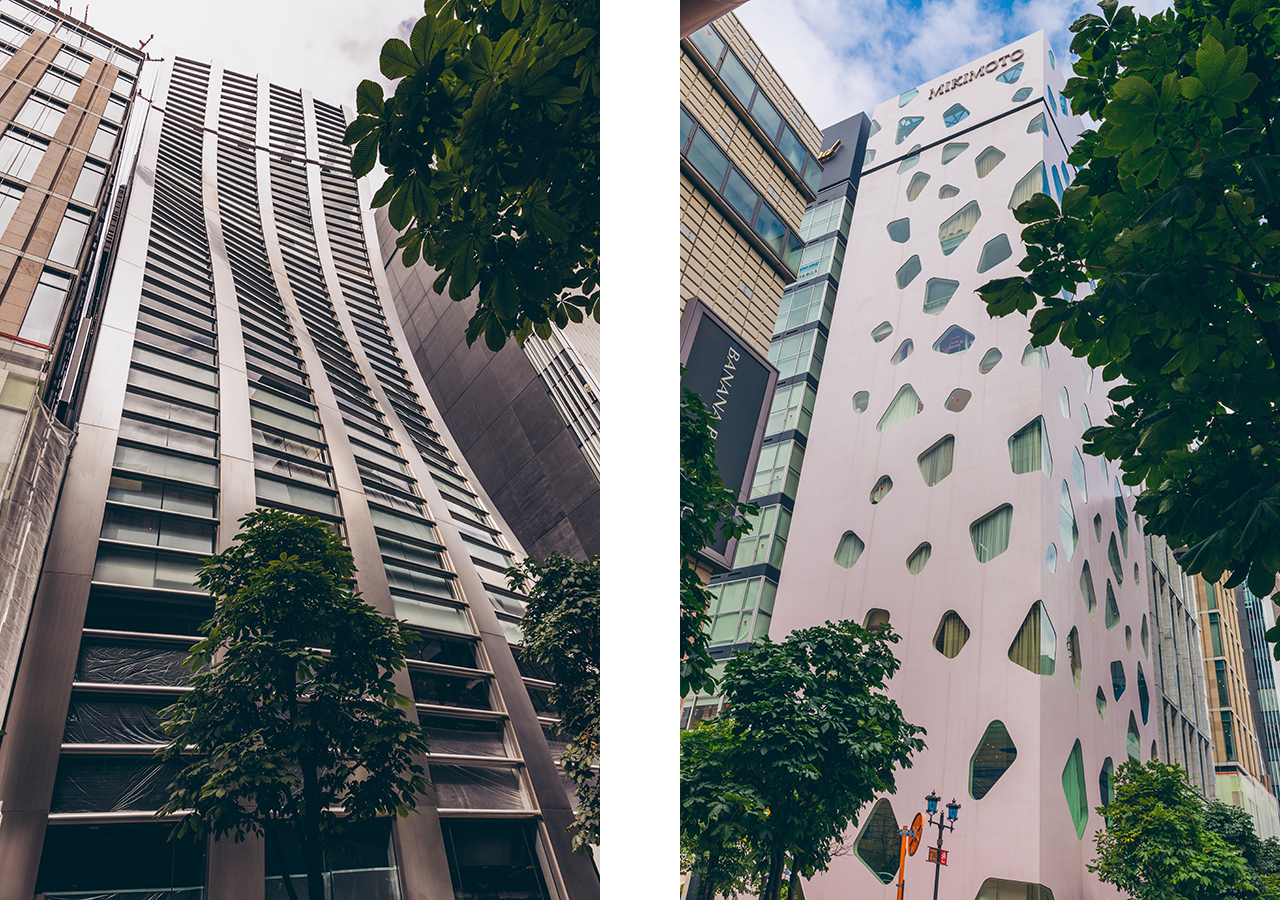 Tokyo International Forum, cool building built in 1997:
Tokyo Imperial Palace:
When you turn around this is the view you have:
One of the Tokyo skyscrapers:
Taito in the night, the vending machines are everywhere:
The next day I went to a neighborhood called Shimokitazawa, an area with a more local vibe: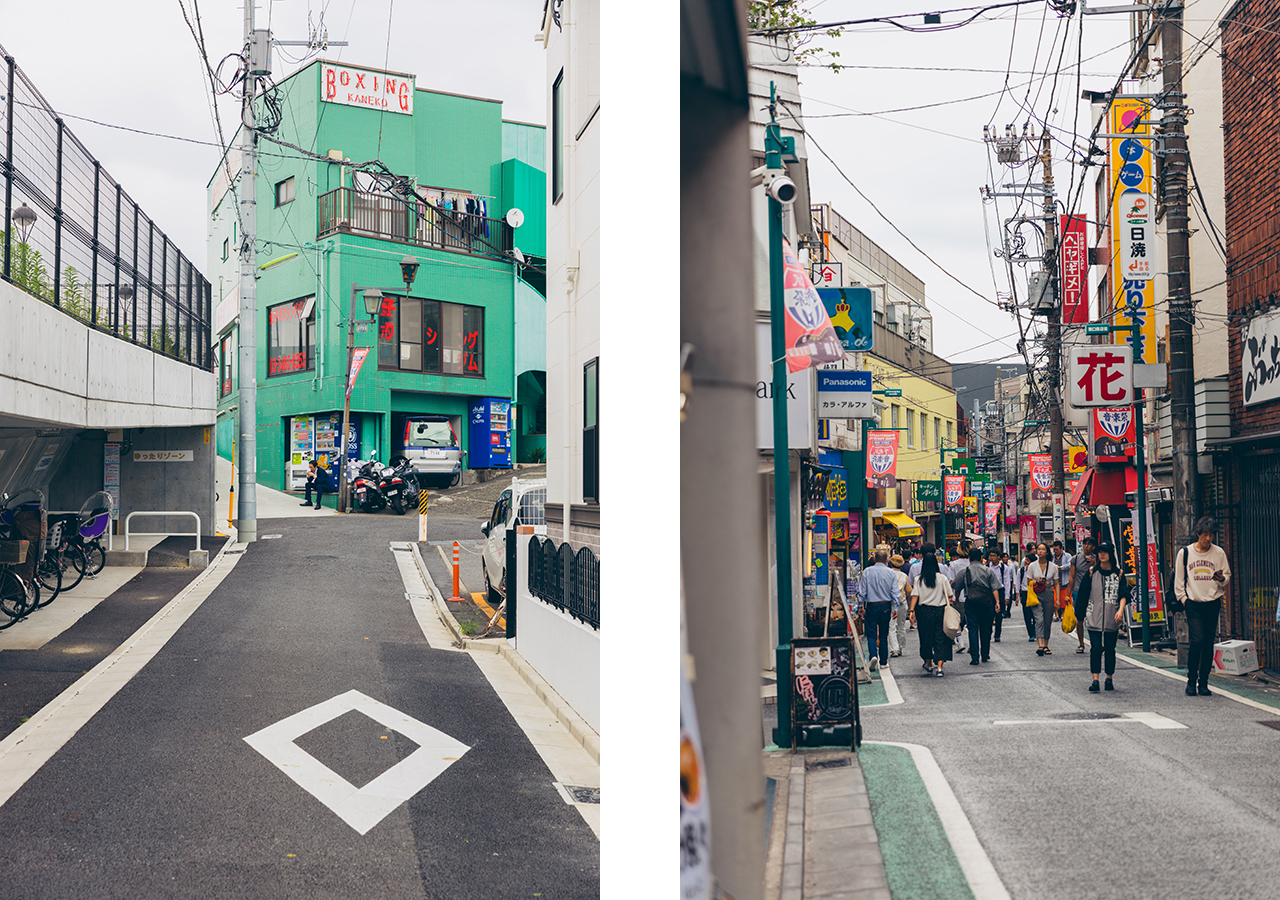 The newer Tokyo tower, the Tokyo Skytree, in the night:
Took the train to Shinjuku,  a neighborhood popular for the many light signs, robot shows and sketchy bars, many strange characters harassing you at night to go to their "bars":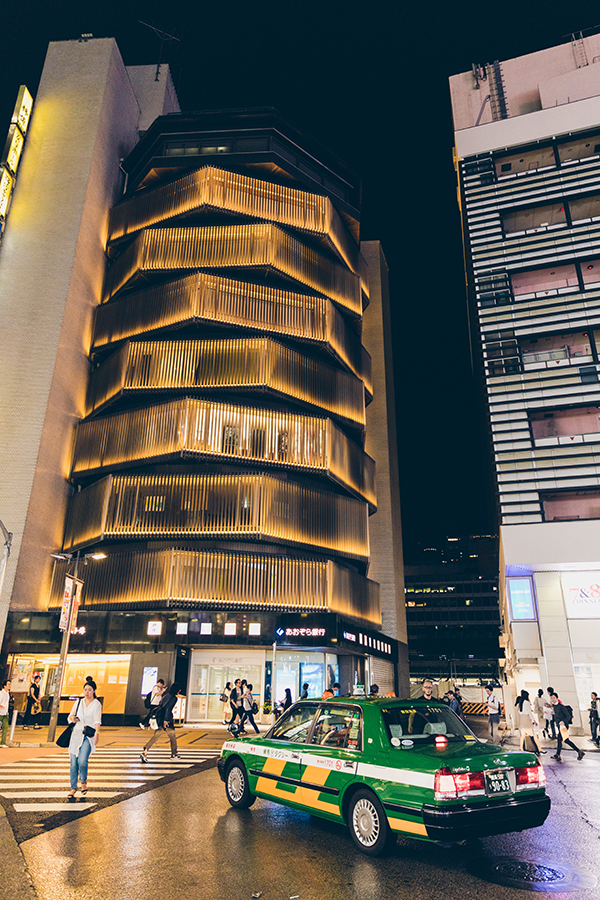 After a nice evening in Shinjuku I went back to my hostel and packed for the next move, time to try the bullet train from Tokyo to Kyoto where I didn't take a single picture, but here's a shot of the train (Subway) to get to the bullet train station, classy:
Kyoto was real nice, a lot of history and culture around, when I got there I just walked around Sanjo and surrounding neighborhoods: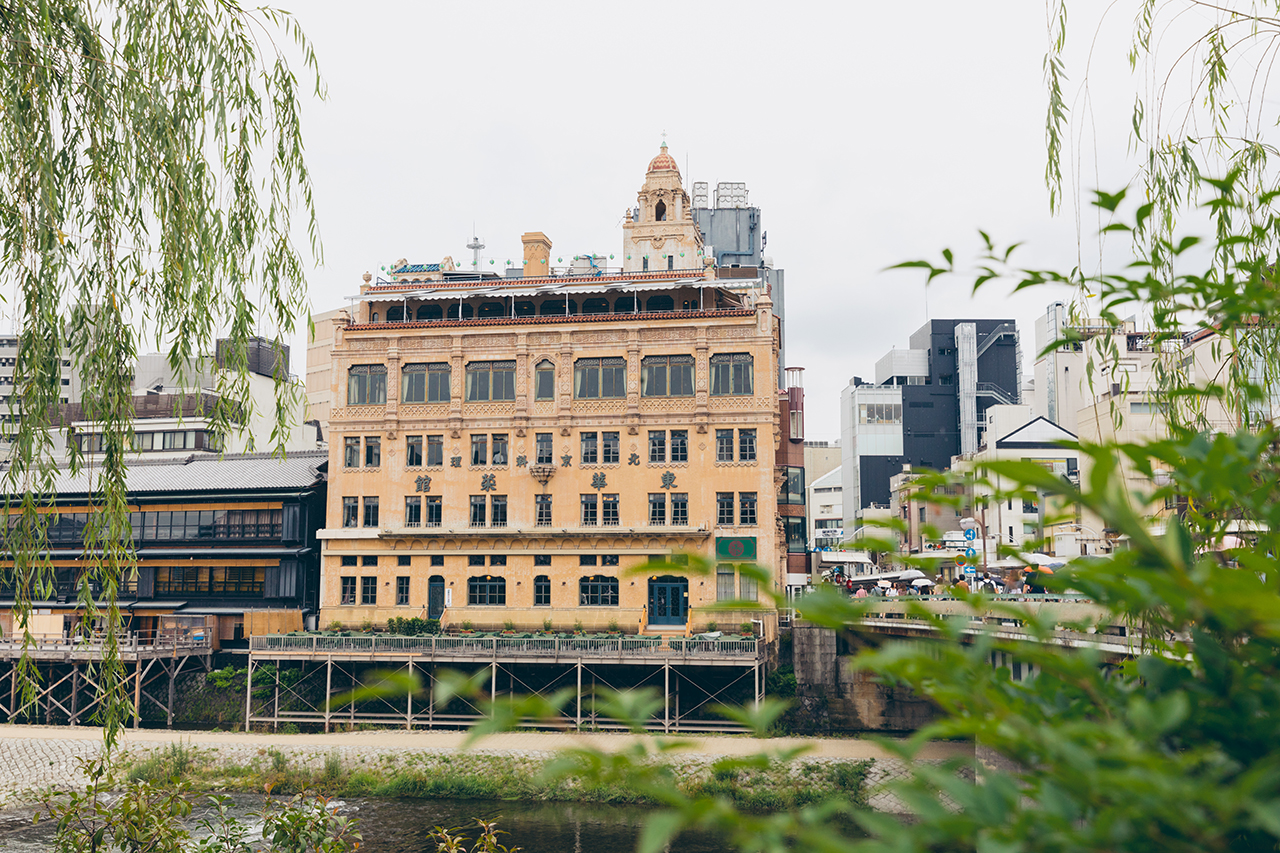 Kenninji Temple area:
The extremely crowded Yasaka Shrine:
More action from the streets of the area:
Went out for some food and drinks, here's some photo of a rainy evening (Cellphone):
The next day I went to one of the main attractions of Kyoto, Fushimi Inari Taisha, the mountains with thousands of torii gates, I went there the previous afternoon but it was way too crowded for pictures, I highly recommend going at sunrise, it is open 24 hours a day:
You can catch a nice view of Kyoto from the top of the mountain:
The shrine at the bottom of the mountain, also very impressive:
Took it easy for the rest of the day, in the evening I went out with a new friend I met at the restaurant, the nightlife in Kyoto is pretty nice, no pictures available.
The next day I tried the Nishiki Market, another very touristic market with loads of different food to try:
Here you can see one of the local delicacies, the famous Eel:
I decided to try it at restaurant nearby, I was impressed, that thing is very good but a little expensive:
I had my bicycle and was a little hungover but decided to go visit another temple, Eikando Temple, known for it's amazing garden, I only brought my cellphone for this one:
Some food I had along the way, Udon soup and Chocolate Ice Cream (Cellphone):
The next day I went on with my bicycle to visit Kinkaku-ji, a nice place but again, way too crowded in the middle of the day: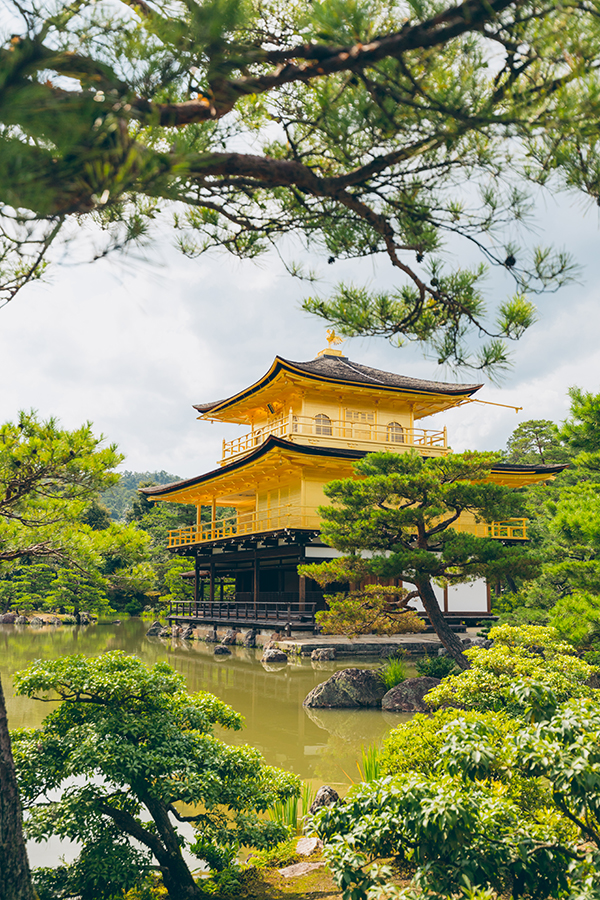 After that nice golden temple visit I went back to my hotel for a nap, when I woke up and went to the main street I was surprised by a huge crowd:
I learned it was the last evening of a big festival in Kyoto, the "Kyoto Gion Matsuri", the vibe in the street was great, a lot of street food stands, a loooooot of people and the big "floats", pretty cool evening: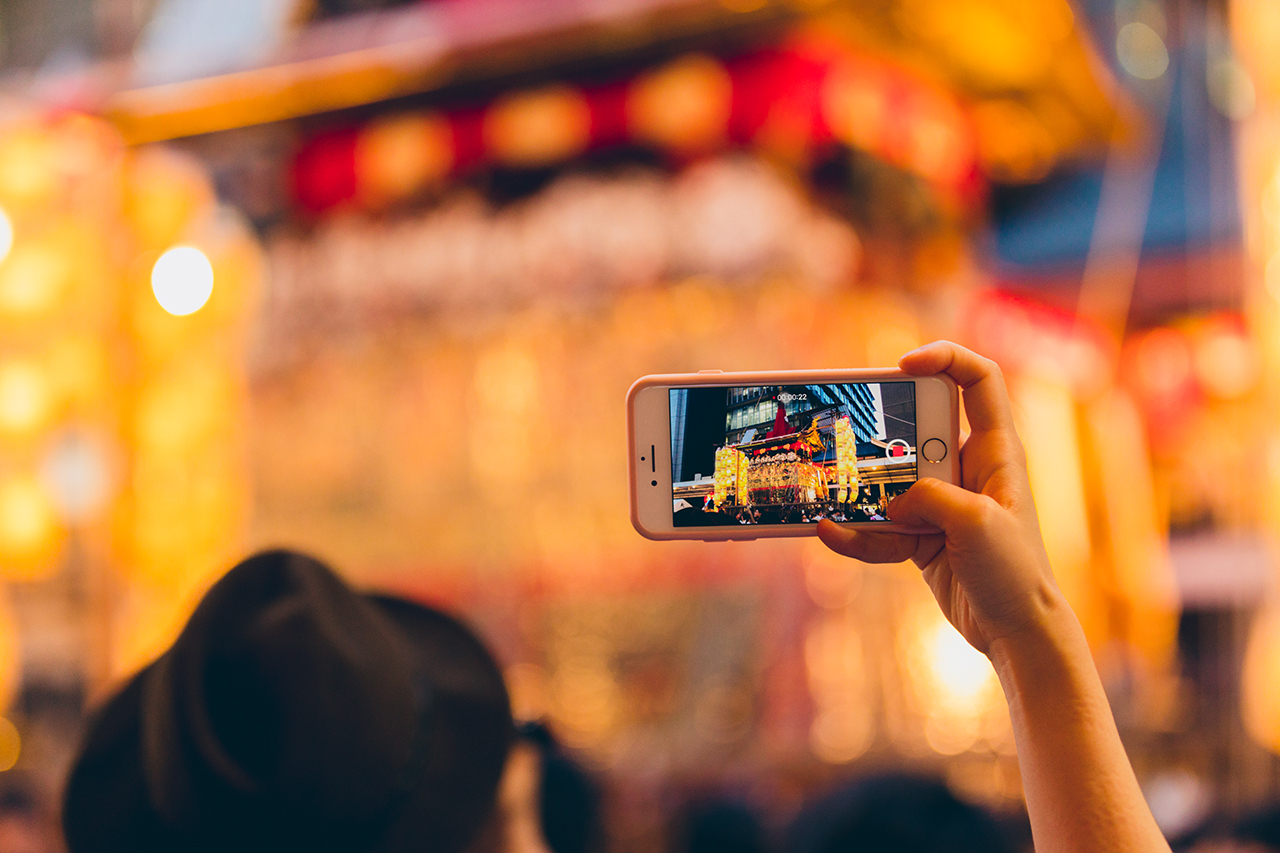 Crowd control was on point:
Many people wearing the local Kimono, they have many rental shops for those:
The next day I  woke up at sunrise to visit the Bamboo Forest in Kameyama, again a place worth a visit at sunrise, it gets very busy around 10am:
Came back to the city and explore a little more:
On the left of this one it's a Bake Cheese Tart that you should taste if you are around there, on the right is a cool looking donuts shop.
On my last evening in Japan I took a train to Osaka, about 1 hour away from Kyoto. I walked around had a Ramen soup and went back to Kyoto:
And that was over just like that, Japan is great and I hope I can discover much more soon. There's something so different and special about the country, you can't mistake Japan for another country.
On to Vietnam for a quick stop and then Thailand post coming soon.
**** Bonus content ****
Had a layover in Tokyo before going to Montreal in May, here's some photographs from that layover (Spent 5 hours in Shibuya)
kbye.