Hello, here's my trip report from Nicaragua. February 2016.
Visited a portion of the Pacific coast, from Popoyo to San Juan Del Sur, also went to Granada and Leon.
Tried visiting Ometepe but there was too much wind for the ferry to cross that day…
It's a nice place to visit, not very touristy, country is pretty poor outside the cities but people are very nice and helpful.
Much cheaper and less developed then Costa Rica, also at this time of the year, wild life and vegetation is pretty much non existent.
All the pictures: Complete Album
The tough little Nissan Tiida, not always ideal if you want to go off the main roads but we managed.
Day 1:
We arrived in Managua at 2AM slept for 5 hours in a 40$ hotel by the airport and then went on to rent our car and drove to Masaya Volcano but it was close due to activity, so we went on to the place we booked, Popoyo Hotel.
Walked on the beach to find this nice natural pool on low tide.
The beach was empty, kinda windy there and not many hotels around there.
Only some locals fishing and us.
Day 2:
We drove on the coast to Playa La Redonda, that's actually a private beach for Aqua Wellness Resort, got to the gate and they just let us in to enjoy the facilities! Nice.
We then went on to Playa Gigante, fishing village, not much happening there…
Drove another five minutes to Playa Amarillo, once again by ourselves on the 1km of beach.
Went back near our hotel to Magnific Rock for the sunset… got a drink at the hotel/restaurant…
Went down for the sunset:
Day 3:
We drove down to San Juan Del Sur, probably the most touristic village/city of Nicaragua. Nice bay, again was very windy out there.
Nice houses for the tourists.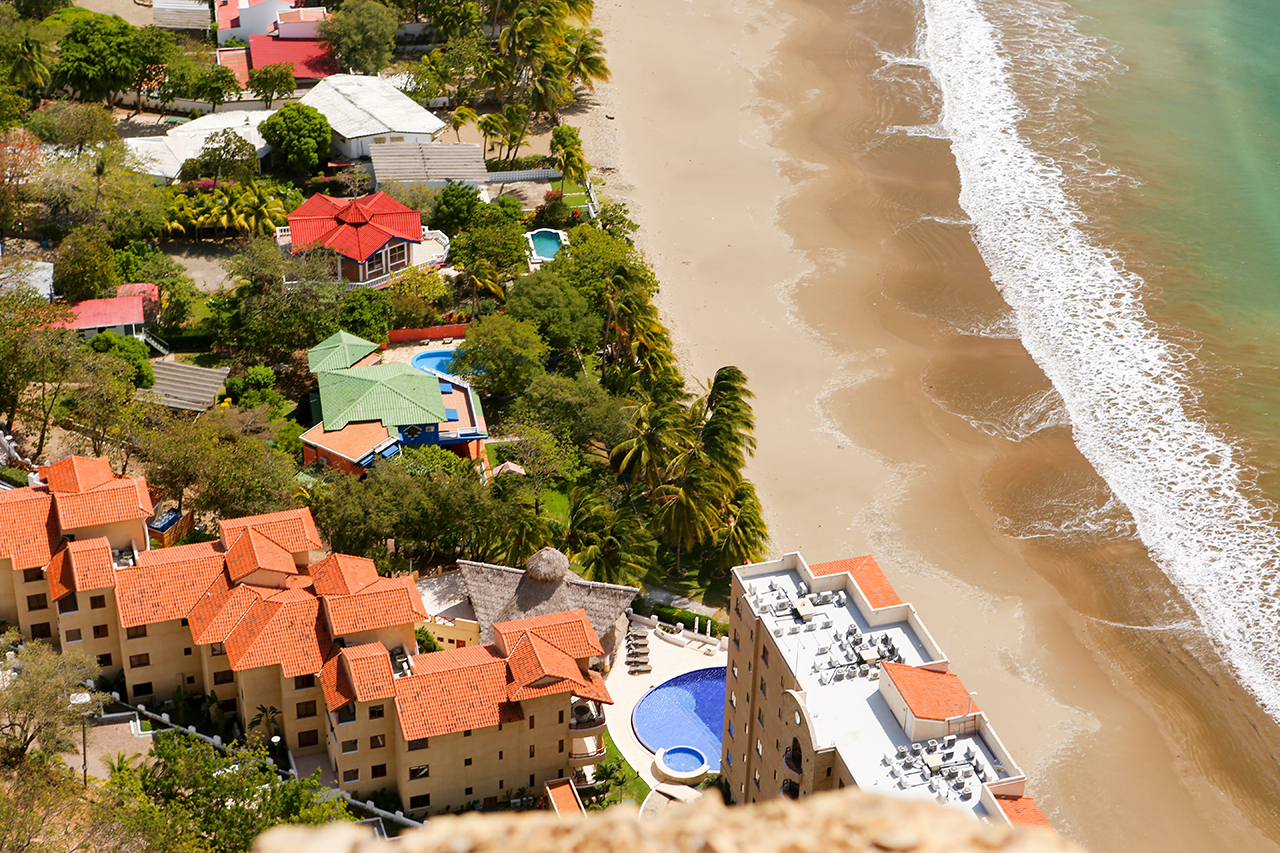 Very dry at this time of the year.
View from the beach, you can see the way point the Christ statue is.
View of Playa Nacascolo
Then we went to Playa Maderas to surf for an hour or 2, total surf noob but I like to try it when I have the chance.
Drove back to our hotel and went on the beach for sunset:
Day 4:
Woke up early to get to San Jorge where the ferry crosses to Ometepe, when we got there, at 7am we were told no ferries were going out in the morning, too windy.
You can see the Volcán Concepción and how agitated the water from the LAKE is… so another Volcano I couldn't visit, 2 actually, there's also Volcán Maderas on the island.
We waited 4 hours, no ferry going out or coming in, decided to proceed to Granada.
Colorful Granada
You can see Mombacho Volcano from the city, this was taken from our hotel.
The main city building, as usual the church….can be seen from afar.
Day 5:
Laguna de Apoyo, a volcanic lake with beach clubs around it.
Water was very warm, went on to a beach club, 3$ to use the facilities.
Enjoyed it a bit and drove to Catarina Mirador to have a better view of the Laguna.
Another view of the city from a church, the courtyards are amazing in Granada.
Here's a part of the courtyard and the other hotel we stayed in Granada
Colorful Granada
Day 6:
León, first León Cathedral, feels like Santorini.
More volcanos
Tried to go to Telica Volcano, it erupted the same day, couldn't go. Wanted to go on an organised trip to Cerro Negro for sunset, not enough people signed up to make the trip so I just decided to drive there with my compact car, not ideal but we made it.
Sunset at Cerro Negro
Day 7:
We went to a eco-friendly turtle hatching lodge in Poneloya called the "Surfing Turtle Lodge", very nice place to hangout, again we didn't sleep there, just used the facilities for a minimal fee.
On the way there…
At the lodge
That is it, drove back to Managua and flew out.