August 30th, 2018.
After 2 amazing weeks in Bolivia it was time to go south to Argentina, after crossing the border pretty easily fron Villazon, Bolivia to La Quiaca, Argentina I took a bus down to Humahuaca, Humahuaca is in the Jujuy province. A nice little village where most people stuff only a few hours to visit "Serrania de Hornoca"
Here's some picture of the colorful mountain range:
After 2 night I decided to keep going south to the city of Salta, the city is nothing special but it is a good starting point to drive around the province.
Went up the San Bernando mirador using the teleferico, you can also drive up there, which is probably cheaper then using the teleferico. (300 pesos to go up and down).
After another night in town I decided to rent a car and drive down to Cafayate, I looked around and found Activa Rent a car, they had awesome reviews and after dealing with them I understand why. Amazing service and the cars are very well maintained.
I decided to drive from Salta to Cachi, then drive down to Cafayate, the road from Salta to Cachi is mostly asphalted but the road from Cachi to Cafayate (route 40) is gravel, all the way, be prepared, it's pretty well maintained and a car will have no problem doing the drive, but the issue here is that there's a lot of very hard curves and narrow roads so you have to drive slowly not to get into an accident!
The landscape is beautiful all the way from Salta to Cafayate and back!
Some pictures along the way, this is the road between Salta and Cachi:
When you get to this point, stop and chill out around there, you could see huge condors flying around :
Here's one condor:
You drive through a national park (los Cardones National Park) but there's no entrance fees:
I stopped in Cachi for lunch and then went on, the village looks pretty nice but I was tight in time to get to Cafayate so I didn't visit Cachi, there's a lot of rock formations between Cachi and Cafayate and many vineyards on this drive, it was dry season when I was there but it must be even nice when the vines are growing out there:
Got to Cafayate around 8pm, very chill village with good food and a lot of wine! The next morning I woke up and drove up route 68 to see the local attractions, mostly rock formations, that road is fully asphalted and the furthest attraction, the "Garganta del Diablo" is about 60km from the city.
The first place I stopped is Los Colorados:
I went back to that location, around 11pm, to photograph the stars:
Anyway I then continued up the road, to "El Anfiteatro", very impressive, people love to sing in there, the accoustics are great: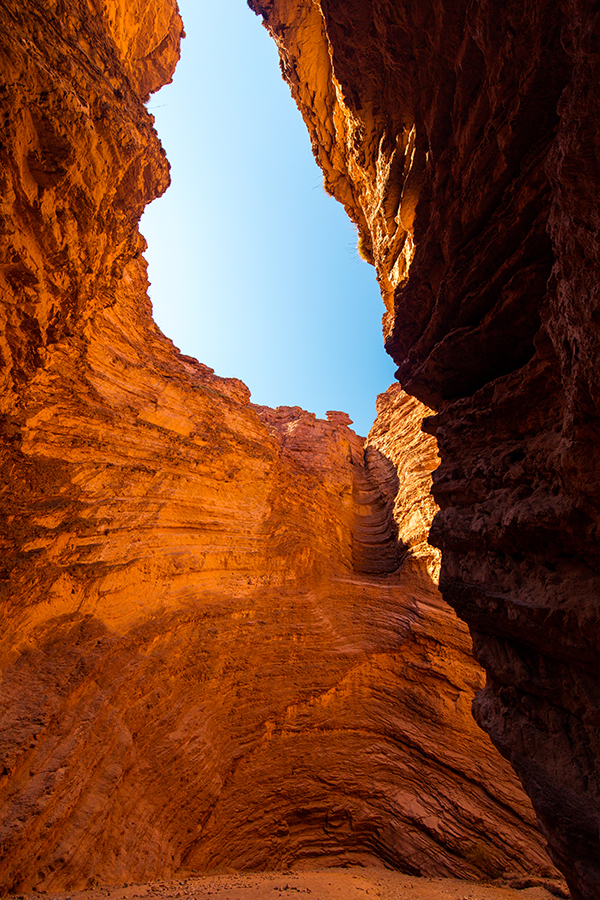 And then stopped a little further at "Garganta del Diablo", the white dot is a adult human, for scale:
You can climb at your own risks to the main "hole":
Pretty impressive :
View of route 68 from "Tres Cruces":
I then drove back to Cafayate for some wine tasting and food. The next morning I left to catch my plane in Salta, direction Buenos Aires!